Early Child Dentist Visits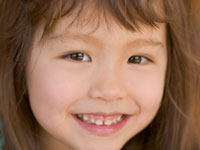 Many people don't consider a child's need for pediatric dental care until they actually get their pearly whites. In fact, most kids don't see their child dentist until about two years of age (though they really should have their first appointment by their first birthday). Why spend a lot of time worrying about something that hasn't happened yet, right? While it's true that it's pointless to check an empty mouth for cavities, good child dental care habits begin long before a baby's first baby teeth break through the gums. Ensuring that teeth grow in healthy and in place will result in proper facial arrangement and speaking abilities.
Caring for Your Baby's Teeth!
Whether breast-fed or bottle-fed, baby gums need to be cleaned after every feeding. Just moisten a gauze square and gently wipe away plaque. Never put a baby to bed with a bottle containing anything but water! Sugar could decay teeth beginning to surface. It's also a difficult habit to break, so nix it now before you have to try to pry juice from your 5-year-old's hands.
Healthy Habits Last a Lifetime
Research shows that kids who are brushing their teeth by the age of five will continue this habit all their lives. Begin supervised flossing by this age as well, and be sure to get your child to a dentist by his or her first birthday. Remember that a healthy diet is an important part of good oral health, so reinforce wise food selections during each and every meal. Give your child a head start on good dental health!
Dental Health: Tooth Brushing for Pre-Schoolers!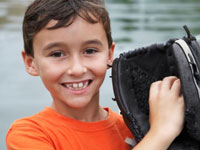 Teaching toddlers some brushing basics is important. Developing good brushing habits for sound dental health early sets a positive pattern.
How Early Should I Begin Letting My Child Brush Their Teeth by Themselves?
Children learn by example and often want to copy the behaviors they observe in adults. "Let me do it!" is often a favorite phrase during the preschool period, so this can work in your favor when they're ready to learn.
When children are about three years old, they're usually ready to learn how to brush with your supervision. Schedule a visit with the dentist. Let them advise you about your child's readiness for proper brushing. The pediatric dentist or dental hygienist will also show your child the right way to brush.
Between the ages of three and five, your child will likely need help brushing the inner surfaces and way in the back. By age seven, most kids are ready to brush alone.
What Are Some Ideas for Teaching Good Brushing Habits?
Take your child toothbrush shopping. Let them choose among all the colors and designs for child-size toothbrushes. Giving kids a chance to select the one they want helps them feel part of the process. Just make sure it has soft bristles.
Show your child how to brush properly. Place only a pea-sized amount (at most) of toothpaste on their toothbrush. Tell them this is all that's needed and no more should be used (too much toothpaste at a young age is not recommended). If your child objects to using toothpaste, just brushing alone is fine. Brushing with water works, too (but the fluoride in fluoride toothpaste acts as a cavity-fighter and provides extra protection).
Provide positive reinforcement. Give them colorful stickers. Make up a chart and have them place a sticker on it every time they brush.
Put a sticky note on the bathroom mirror with a smiley face reminding your child to brush. When your child is old enough to read, post the 10 Tips from the Tooth Fairy on the mirror or refrigerator for gentle dental reminders.
Praise them for their brushing ability. Tell them how shiny their teeth look.
Making brushing fun to learn sets the right tone! Make up a song using their name while they're brushing. Avoid any battles about brushing, since this will only discourage cooperation. Associating it with fun and enjoyment reinforces positive experiences.
Model good oral care habits. If they see you brush and floss regularly, that sets a good example they will likely want to follow.
Good oral care habits last a lifetime. Starting them early with good baby teeth care strengthens the habit and will help them keep their permanent teeth healthy, too!
by Brian J. Gray, DDS, MAGD, FICO