Infant Pediatric Dental Care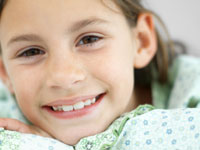 One question many pediatric dentists are asked most frequently is, "At what age should I bring my child in for his/her first dental checkup?" Most dentists will say between two and four years of age, because that's what they're taught in dental school. The reason dentists are taught this answer is because children have finished teething by that time and are usually more cooperative.
The only problem with this reasoning is that by age two, according to American Dental Association statistics, 30% of all children in America have a cavity or cavities! As a result, a child's first experience at the family dentist's office is often a numb lip, a rubber dam, and a filling — not the most pleasant first experience!
So, at what age should your child receive his first pediatric dental examination? At birth!
That's right — but in many pediatric and family dentistry offices they aren't just "tooth doctors." They believe in cavity prevention. And prevention starts at birth.
Some pediatric dentists would like you to bring in your baby so that they can tell you about fluorides, pacifiers, finger habits, nutrition, and oral hygiene.
There may be no charge for this appointment or for the subsequent visits they call "play" appointments. These appointments are scheduled at 1 year, 1-1/2 years, and at 2 years of age. By that time, many children may be receiving cleanings, fluoride treatments, and protective sealants.
If the child isn't ready for these treatments, they can continue "play" appointments until he is ready.
Pediatric dental care professionals never want to enforce or insist that a child have dental work unless he is ready. They want pediatric and family dentistry to be a fun and enjoyable experience for children so that they will look forward to their visits twice a year.
As a result of this approach to prevention, 95% of those children who make regular continuing care visits are cavity-free, as are 85% of adult patients who follow a similar regime. Yes, prevention starts at birth, and your family dentist's goal remains a commitment to preventive care.
Seal Out Tooth Decay in Your Children's Teeth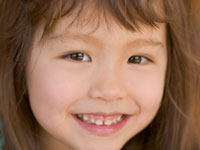 Sealants are a plastic barrier to protect the chewing surfaces of the eight permanent molars from decay. The six-year molars usually erupt (come in) between five and seven years of age and the twelve-year molars erupt around 11 to 14 years of age. More than 90% of decay occurs in the deep grooves of the chewing surfaces of these molars. When teeth first erupt, the enamel is not completely calcified (hardened), and the teeth are very susceptible to decay. Dental sealants should be applied as soon as the molars are in far enough to see the entire chewing surface. If a primary (baby) molar has early decay on a chewing surface, and the child is cooperative, a sealant may be recommended. Once decay has penetrated the second layer of tooth structure, a restoration (filling) must be placed.
The application of a sealant is painless, but does require cooperation. A very high flow of saliva, a strong gag reflex, or an inability to open the mouth wide enough for access to the molars, will make the procedure difficult. Your pediatric dentist will use various methods to manage these circumstances. The most important requirement for a quality sealant is your child's cooperation.
In order to see how the sealant is performed, you and your child could ask if you may watch the procedure being performed on another child or your dentist may have a videotape or DVD that you may view. There are four six-year molars and four twelve-year molars. Because the teeth do not always come in at the same time, all four permanent molars may not be sealed during one visit.
First, the tooth must be isolated from saliva. Remember, the tooth must be dry for the sealant to bond tightly to the tooth surface. A gel will be applied for 15 seconds. After this is rinsed away with water, the sealant is applied (usually with a tiny brush). A bright light is used to harden the sealant. There is no heat or sensation from the light. The procedure takes only minutes for each tooth. Your child may eat right away.
Sealants do wear out. Retention rates are about 85% over three years. Grinding teeth and chewing ice, popcorn kernels, or hard candy can crack sealants. How well the child's enamel bonds with the sealant will often determine how long a sealant will last. If a sealant is lost, the tooth is still more protected from decay than if the tooth had never been sealed. Decay will probably not occur if the sealant is replaced during the next six-month dental check-up. If your child has had a problem with cavities and his or her oral hygiene is very poor, decay can still occur.
Sealants are one of the very best things dentistry has to offer. Seal out your child's decay!
by Jane A. Soxman, DDS