Seal Out Tooth Decay in Your Children's Teeth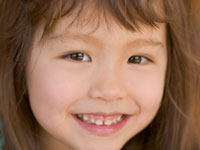 Sealants are a plastic barrier to protect the chewing surfaces of the eight permanent molars from decay. The six-year molars usually erupt (come in) between five and seven years of age and the twelve-year molars erupt around 11 to 14 years of age. More than 90% of decay occurs in the deep grooves of the chewing surfaces of these molars. When teeth first erupt, the enamel is not completely calcified (hardened), and the teeth are very susceptible to decay. Dental sealants should be applied as soon as the molars are in far enough to see the entire chewing surface. If a primary (baby) molar has early decay on a chewing surface, and the child is cooperative, a sealant may be recommended. Once decay has penetrated the second layer of tooth structure, a restoration (filling) must be placed.
The application of a sealant is painless, but does require cooperation. A very high flow of saliva, a strong gag reflex, or an inability to open the mouth wide enough for access to the molars, will make the procedure difficult. Your pediatric dentist will use various methods to manage these circumstances. The most important requirement for a quality sealant is your child's cooperation.
In order to see how the sealant is performed, you and your child could ask if you may watch the procedure being performed on another child or your dentist may have a videotape or DVD that you may view. There are four six-year molars and four twelve-year molars. Because the teeth do not always come in at the same time, all four permanent molars may not be sealed during one visit.
First, the tooth must be isolated from saliva. Remember, the tooth must be dry for the sealant to bond tightly to the tooth surface. A gel will be applied for 15 seconds. After this is rinsed away with water, the sealant is applied (usually with a tiny brush). A bright light is used to harden the sealant. There is no heat or sensation from the light. The procedure takes only minutes for each tooth. Your child may eat right away.
Sealants do wear out. Retention rates are about 85% over three years. Grinding teeth and chewing ice, popcorn kernels, or hard candy can crack sealants. How well the child's enamel bonds with the sealant will often determine how long a sealant will last. If a sealant is lost, the tooth is still more protected from decay than if the tooth had never been sealed. Decay will probably not occur if the sealant is replaced during the next six-month dental check-up. If your child has had a problem with cavities and his or her oral hygiene is very poor, decay can still occur.
Sealants are one of the very best things dentistry has to offer. Seal out your child's decay!
by Jane A. Soxman, DDS
How Your Family Dentist Can Boost Your Child's Grades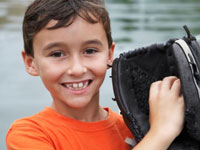 That's right - you read that headline correctly. Regular trips to the family dentist may improve children's grades. He won't tutor them in history or teach them their times tables. In fact, he probably won't teach much of anything beyond how to brush and floss, and chances are he won't quiz them on that any time soon. Still, regular trips to the pediatric dentist could improve your child's academic experience. Do we have your attention?
According to the American Academy of Pediatric Dentistry, children miss more than 51 million hours of school per year as a result of pediatric dental problems and related conditions. What's more, dental pain can distract students, cause their school work to suffer and lead to absences. In general, those with healthy teeth are more attentive in class, participate more in school-related activities and have better attendance. All of this spells better grades and a better all around education, thanks to regular child dental care, exams and education.
One of the most important exams your child can pass is the one performed by his or her family dentist, but you still have to do your part. Teach your child to floss once a day and brush twice a day with fluoride toothpaste, assuming he or she is old enough to use one. Also, a healthy diet will not only boost concentration, but result in healthier teeth and gums. Beware of frequent snacking and repeated exposure to sugary or acidic treats. Most importantly, be sure children attend their dental appointments at least twice a year. Pediatric dentists provide ongoing oral health assessments that will prevent dental conditions - not to mention school absences.