Facts About Dental Fluoride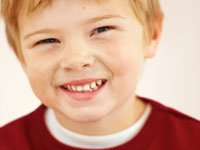 We have all received the benefit that fluoride offers in preventing tooth decay. The following facts will provide you with information to assure that your child's teeth receive the optimum amount of fluoride.
Fluoride strengthens the outer layer of enamel, making teeth more resistant to the acid attack of decay-causing bacteria. It can be of benefit not only when the teeth are forming, but also after they have erupted (come in).
Primary (baby) teeth begin to develop at six weeks during pregnancy. Fluoride supplements for mom during her pregnancy do not benefit baby's developing teeth. Only tiny amounts of fluoride are found in breast milk.
Well water may contain large amounts of fluoride. Before giving your child fluoride supplements, have your well water tested for fluoride content. Fluoride sticks to the sides of glass containers. Use a plastic container for an accurate test result.
Bottled water may also contain significant amounts of fluoride. The amount of fluoride will vary with the season of the year, the water table, and the plant from which the water was obtained.
Juices, tea, and soft drinks may contain fluoride. White grape juice has the highest concentration of fluoride. Fish and chicken baby food may also provide fluoride.
Do not assume that your home water filter system removes all fluoride. The age of the system and the filter may have a significant effect on your fluoride level. Have your water tested before giving your child a fluoride supplement.
Do not use fluoridated toothpaste before two years of age. Dispense only a dab the size of a match head for children under five. Children's toothpaste has the same amount of fluoride as the adult brands.
If your home water supply is not fluoridated, the water at school, daycare, or the caregiver's home may be optimally fluoridated.
Your physician or pediatric dentist may prescribe a fluoride supplement. Once the chewable tablet is begun, fluoride and vitamins should be taken separately. Vitamins work best with food, and fluoride is best absorbed from an empty stomach. Fluoride tablets should be taken at bedtime after the teeth are brushed. Chew, swish, and swallow.
There are many sources of fluoride other than your home water supply. When considering a fluoride supplement for your child, remember your fluoride facts!

by Jane A. Soxman, DDS
The Making Of An Awesome, Most Excellent Smile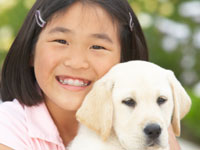 A winning smile is awesome! It's a very special part of your face. Your teeth are a big part of your smile. Keeping them in good shape helps your smile.
Taking care of your teeth is your job. Make it a habit. Here are some tips to follow for keeping your teeth, gums, and all parts of your mouth healthy. These give your mouth something to really smile about!
Brush your teeth in the morning and at night with a fluoride toothpaste. There may be times you don't feel like it, but good brushing habits can save you from lots of problems later.
Cavities are caused by a sticky film containing germs. It's called plaque and it coats your teeth. Plaque is nasty and needs to be brushed away at least twice a day. So if you go to bed without brushing your teeth, get up and brush! Or, if you forget to brush before going to school in the morning, rinse your mouth with water. Brush your teeth as soon as you get home.
If you don't, you're in for a plaque attack, and that causes cavities!
Use a tongue scraper or brush your tongue, too. Swish with water after brushing to rinse your mouth. If you're 12 years old or older, you can use a mouth rinse, too. Be careful not to swallow it. Don't swallow any toothpaste either. It's good for your teeth but not good in your tummy.
Use dental floss or an interdental cleaner (special picks, brushes, or sticks) to clean between teeth every day. Plaque gets between teeth, too. Cleaning between your teeth removes plaque and trapped food particles your toothbrush might not get. Do it as part of your bedtime routine. Fighting tooth decay is your job.
See your dentist twice a year for check-ups and cleanings. They have special tools that can get your teeth really clean. Think of your dentist and dental hygienist as your healthy teeth team. They like helping to keep your smile in good shape!
Clean your teeth after snacks, even if it only means "swishing" out with water. Even healthy snacks like fruits and vegetables leave food particles and natural sugar in your teeth. Don't eat too many sweets. When you do eat sweets, brush your teeth as soon as possible. Cavity-causing germs love sweets. They start attacking your teeth right away.
Wear a mouth protector when participating in sports. They can save your teeth from getting chipped, broken, or knocked out.
Stay away from all tobacco products including cigarettes, cigars, and smokeless tobacco. Tobacco is very bad for your teeth, gums, lips, and mouth. Yuck! It can stain your teeth, give you sores that really hurt, and make you very sick. It's a bad habit for your whole body.
Follow these steps to an awesome smile.
Brush teeth in the morning and at night.
Floss every day.
Rinse or brush after snacks.
See your dentist for check-ups and cleanings twice a year.
Wear a mouth protector for sports activities.
Stay away from tobacco.
You're in charge of your teeth. Brush them. Floss them. Build strong, healthy teeth with healthy foods. Follow good health habits. You are sure to make and keep an awesome, most excellent smile!
Discover what pediatric dentistry can do for your child's smile.
by Brian J. Gray, DDS, MAGD, FICO