Fresh Talk For Your Mouth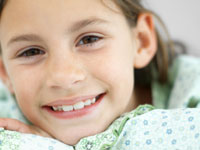 As a teen, you've got plenty to do -- going to school, homework, participating in after-school activities, spending time with friends, perhaps working a job, and other time commitments. Caring for your appearance also is a top priority, including your teeth. By doing so, you're rewarded with a bright, winning smile that really attracts attention!
Sometimes I Come Home So Tired After Long, Busy Days, I Don't Feel Like Brushing My Teeth. Does it Really Matter?
Yes, it does! If you haven't brushed your teeth since the morning, your mouth is filled with cavity-causing bacteria. When the sugar and starch from the day's food, snacks, or drinks combine with plaque (that sticky film on your teeth), an acid is produced. That acid attacks your tooth enamel. If this is repeated often, those acid attacks can break down enamel and cause cavities while you sleep. So, those few extra minutes it takes to brush your teeth really are important for cavity prevention.
What Can I Do to Make Sure My Breath Is Really Fresh?
Commercial products claim they will make your breath fresher, but the only way to make sure your breath is truly fresh is to practice good oral hygiene. In fact, too many breath mints and hard candies with sugar can lead to tooth decay. If you are constantly using breath mints, breath sprays, or mouth rinses in an effort to cover up bad breath, you may have a problem that needs correction.
If you neglect daily hygiene over time, bad breath can become a symptom of more serious dental problems. Teeth that are not cleaned properly become a place for bacteria to multiply in your mouth, causing cavities and gum disease. Gum disease produces bad breath and that's gross! So brush, floss, and brush or scrape your tongue.
If you smoke, bad breath comes with the habit. Smoking also puts you at an increased risk for developing gum disease. Brushing and flossing your teeth may slow the development of gum disease but smoking can lead to serious oral health problems, including oral cancer.
Can Dieting or Taking Medications Affect My Oral Health?
Hunger can contribute to bad breath. This is because of the chemical changes that occur as your body turns fat and protein into the energy it needs. Chemical changes caused by taking prescription or over-the-counter medications can also affect mouth odor.
Isn't a Mouth guard Just for Those Who Wear Braces?
No! Every year, more than 200,000 people are treated by dentists and oral surgeons for sports-related injuries, including broken and knocked-out teeth, concussions, jaw fractures, and neck and head trauma. Many of these could be avoided if athletes and sports enthusiasts used a mouth guard. Anyone participating in sports, especially contact sports, should wear protective mouth guards for safety.
Different types of mouth guards provide various advantages and degrees of protection -- from off-the-shelf to custom-fitted.
If you let good oral care habits slip away, you might be setting yourself up for some undesirable or painful events. Taking care of your teeth by brushing at least twice a day, cleaning between your teeth, avoiding smoking, and protecting yourself from injury by wearing a mouth guard does make a big difference. It matters to your mouth -- just a few minutes daily for clean teeth, fresh breath, and a magical smile!
by Brian J. Gray, DDS, MAGD, FICO
Pediatric Dentistry Prevent Tooth Decay in Children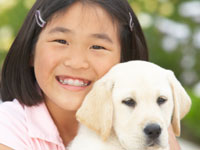 Snacking -- it's a frequent ritual for all ages and a regular part of most kids' lives. Healthy snack foods can contribute to a well-balanced diet that includes a variety of foods, giving our bodies the nutrients they need.
The Daily Food Pyramid established by the U.S. Department of Agriculture and the U.S. Department of Health and Human Services is a good guide to daily food choices. The best snacks for good dental health include foods rich in complex carbohydrates, vitamins, minerals, and protein. Fruits and vegetables are rich sources of vitamins and minerals, free of cholesterol, virtually fat-free, and low in calories -- which are good reasons for enjoying them as snacks.
Foods containing fats, oils, pastries, candy, and other sweets should be eaten sparingly. However, food products that are high in these things often have the large advertising budgets and are heavily promoted to children.
Serving your children healthy snacks or having these ingredients on hand for them to serve themselves is easy and convenient. Teaching them early about making healthful food choices is good guidance that lasts a lifetime.
At least five servings of fruits and vegetables are recommended daily. Snacks are a good way to get them. However, even natural sugars found in them can contribute to tooth decay. Limit the frequency of snacking because frequent "grazing" coats the teeth in cavity-causing bacteria.
Some research has shown that when cheese or peanuts are eaten with or after carbohydrates, they may help to counter the effects of acids harmful to teeth. In any event, be sure and rinse or brush after each snack!
Here are some fresh, snack ideas from a children's dentist for satisfying and healthy treats:
Munch on a colorful assortment of fresh fruit. There's a rainbow of snack ideas - apples, pears, grapes, kiwi, berries, peaches, plums, melons, and more. Try some of the new fruits, too, from around the world now available in produce departments.
Enjoy celery, broccoli, cauliflower, bell peppers, and other crunchy fresh vegetables plain or dunk them into a dressing or your favorite dip.
Zip up a zesty snack with citrus fruits including juicy oranges, grapefruit, and those easy-to-peel, "zipper" fruits: tangerines and tangelos.
Make frozen banana chips to have on hand whenever the snack urge strikes. Cut a green-tipped or ripe banana crosswise into rounds; spread rounds on aluminum foil, then wrap tightly. Freeze and enjoy a frosty snack.
Make fruit smoothies for refreshing, satisfying, and healthful snacks. Choose from the cool collection of fruits. Combine chunks of fruit like bananas, berries, or nectarines with some milk and ice, and whirl in a blender. You can also add some yogurt or fruit juice or sweeten smoothies with a little sugar, if desired. The ideas are endless with the rainbow of fruits, flavored yogurts, and juices.
Make a snack mix of low sugar cereals with peanuts, tiny snack crackers, sesame sticks, and raisins, or other dried fruits such as cranberries.
Encourage children to eat healthy snacks but limit the frequency of snacking. Let them know that brushing between meals whenever possible is an excellent way to fight cavities. Don't let snack attacks become plaque attacks!
by Brian J. Gray, DDS, MAGD, FICO