Dental Care: Malocclusion (Bad Bite) In Children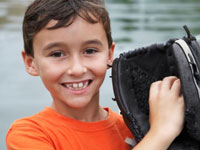 Malocclusion means "bad bite." It's when the upper and lower teeth are not meeting correctly, or when the teeth and jaws are not positioned for good dental health. This condition affects jaw growth, speech development, facial appearance, gum tissue health, and the ability to clean teeth properly.
What Causes Bad Bite In Children?
Many malocclusions are inherited. This includes crowding of teeth, too much space between teeth, extra or missing teeth, or irregularities in the jaws, face, and teeth.
Malocclusions also can be environmental in nature, caused by accidents, thumb sucking or sucking on a pacifier, obstruction by tonsils and adenoids, dental disease, or premature loss of primary (baby) teeth.
Why Is Dental Treatment Important?
If dental care is delayed or not taken, many problems get worse and more complicated (and expensive) to remedy. Malocclusion can cause excessive wear of tooth enamel, poor chewing, stress on both the gums and jawbone that support the teeth, chronic headaches, and facial and neck pains. Correcting the malocclusion can improve overall oral health and eliminate other potential problems.
Does the Pediatric Treatment Involve Removal of Some Teeth?
Sometimes when permanent teeth are crowded and their spacing and proper positioning is being affected by the primary teeth, removing primary or baby teeth is necessary. Otherwise, the severely crowded permanent teeth will either remain "stuck" (impacted) and unable to erupt, or they will erupt in an undesirable position.
Treatment of a malocclusion involves a thorough evaluation of your child's specific condition by a pediatric dentist and/or orthodontist. This may include recommendations for removal of some primary or permanent teeth because some malocclusions cannot be treated successfully without doing so. Extraction of some teeth in severely crowded conditions enhances proper alignment, function, and appearance, too.
How Is a Diagnosis of a Malocclusion Performed?
Each child's specific condition dictates the diagnostic procedures, but they often include several or all of the following:
Clinical exam.
Medical and dental history.
Impressions of the teeth for making plaster models.
Photographs of the face and teeth to provide a record of the child's facial appearance prior to treatment.
Panoramic X-rays showing all the upper and lower teeth in biting position, and teeth that are not yet visible.
Lateral (cephalometric) X-rays of the entire head showing the relationship of the teeth and jaws to the face and skull.
How Long Does Dental Care Treatment Take?
Each condition is unique and must be treated individually. The actual time is dependent on the growth of the child's mouth and face, the severity of the problem and the cooperation of the child in following instructions. Mild correction problems or early treatment may take only a few months. Treatment for more complex malocclusions range from one to three years.
An attractive smile, proper alignment, and healthy teeth are valuable rewards gained from a custom-designed treatment program made for smile after smile!
by Brian J. Gray, DDS, MAGD, FICO
Pediatric Dentistry Prevent Tooth Decay in Children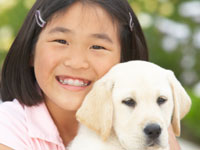 Snacking -- it's a frequent ritual for all ages and a regular part of most kids' lives. Healthy snack foods can contribute to a well-balanced diet that includes a variety of foods, giving our bodies the nutrients they need.
The Daily Food Pyramid established by the U.S. Department of Agriculture and the U.S. Department of Health and Human Services is a good guide to daily food choices. The best snacks for good dental health include foods rich in complex carbohydrates, vitamins, minerals, and protein. Fruits and vegetables are rich sources of vitamins and minerals, free of cholesterol, virtually fat-free, and low in calories -- which are good reasons for enjoying them as snacks.
Foods containing fats, oils, pastries, candy, and other sweets should be eaten sparingly. However, food products that are high in these things often have the large advertising budgets and are heavily promoted to children.
Serving your children healthy snacks or having these ingredients on hand for them to serve themselves is easy and convenient. Teaching them early about making healthful food choices is good guidance that lasts a lifetime.
At least five servings of fruits and vegetables are recommended daily. Snacks are a good way to get them. However, even natural sugars found in them can contribute to tooth decay. Limit the frequency of snacking because frequent "grazing" coats the teeth in cavity-causing bacteria.
Some research has shown that when cheese or peanuts are eaten with or after carbohydrates, they may help to counter the effects of acids harmful to teeth. In any event, be sure and rinse or brush after each snack!
Here are some fresh, snack ideas from a children's dentist for satisfying and healthy treats:
Munch on a colorful assortment of fresh fruit. There's a rainbow of snack ideas - apples, pears, grapes, kiwi, berries, peaches, plums, melons, and more. Try some of the new fruits, too, from around the world now available in produce departments.
Enjoy celery, broccoli, cauliflower, bell peppers, and other crunchy fresh vegetables plain or dunk them into a dressing or your favorite dip.
Zip up a zesty snack with citrus fruits including juicy oranges, grapefruit, and those easy-to-peel, "zipper" fruits: tangerines and tangelos.
Make frozen banana chips to have on hand whenever the snack urge strikes. Cut a green-tipped or ripe banana crosswise into rounds; spread rounds on aluminum foil, then wrap tightly. Freeze and enjoy a frosty snack.
Make fruit smoothies for refreshing, satisfying, and healthful snacks. Choose from the cool collection of fruits. Combine chunks of fruit like bananas, berries, or nectarines with some milk and ice, and whirl in a blender. You can also add some yogurt or fruit juice or sweeten smoothies with a little sugar, if desired. The ideas are endless with the rainbow of fruits, flavored yogurts, and juices.
Make a snack mix of low sugar cereals with peanuts, tiny snack crackers, sesame sticks, and raisins, or other dried fruits such as cranberries.
Encourage children to eat healthy snacks but limit the frequency of snacking. Let them know that brushing between meals whenever possible is an excellent way to fight cavities. Don't let snack attacks become plaque attacks!
by Brian J. Gray, DDS, MAGD, FICO