Children's Speech Problems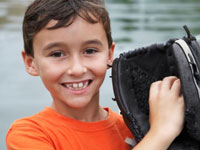 What did you say?
We've all heard young children speak "baby talk." Sometimes it can sound endearing — it may be a speech defect.
In early infancy, babies begin to make vowel sounds, usually mastered by age three, when they are finished teething. Consonant sounds are more difficult and come a little later on. By the eighth birthday, most children can pronounce all consonants and are 100% intelligible. But some children have more difficulty with speech and may need help learning.
Lisping — The most common speech defect is lisping, which is relatively easy to correct. Children who lisp cannot produce "s," "z," "sh," "ch," and "j" sounds. A lisp is heard when children cut off an "s" with the tongue instead of the front teeth. Prolonged thumb sucking or finger sucking can create an open bite and result in a lisp. Other causes are the loss of a primary tooth, impaired hearing, undeveloped ability to discriminate sounds, imitation of a relative or friend who lisps, or neurological disturbances.
Cleft palate — A cleft palate can dramatically affect a child's speech, and often requires oral surgery. Sometimes an orthodontist provides a plastic plate to cover the opening in the roof of the mouth — this allows the child to develop normal speech patterns until surgery can correct the palate.
Tongue thrusting — Tongue thrusting is another problem that can impair speech. This is essentially "reverse swallowing," and can cause improper tooth alignment. It may result from prolonged thumb sucking, which leaves a gap between the teeth and fosters the habit.
Your pediatric dentist may notice a speech problem first. The dentist often works with a team, including a speech pathologist, orthodontist and oral surgeon, to correct the speech problem. Your family dentist can let you know if they think anything is amiss with your child's developing speech patterns.
Child's Dentist: Tongue Piercing Damages the Mouth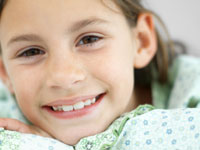 Tongue piercing carries some very serious risks. It can cause a wide range of problems, some even permanent. The pain from the piercing itself might be much more than temporary. It can actually get worse because of excessive swelling and infection and require medical treatment.
The mouth is a hard place to sterilize, so infections are common. Piercing establishments don't always maintain a sterile environment either. They are not regulated by law and many operators are not even licensed. The piercing operator might not be experienced or be thinking of your health and safety. He or she may not even know that the tongue has major blood vessels within it. If pierced in the wrong place -- bingo! You bleed badly. Excessive swelling of your tongue can even block your breathing passages.
The tongue is a breeding ground for bacteria. Piercing the tongue causes an open wound. Bathing it in antiseptic mouthwash isn't enough to kill bacteria. Without the ability to keep bacteria out, infection can develop, and lead to throbbing pain and a trip to the doctor or dentist.
Even if you get through the piercing without too much pain, swelling, or bleeding, you still run the risk of other complications. The jewelry might chip your teeth. It can damage your teeth from the inside, too, and that trauma may require an expensive root canal or crown. Over time, the jewelry can irritate your gums. Or, your fancy jewelry can go right "down the tubes" -- you might swallow or even choke on it, or have it lodge in your lungs.
Tongue Piercing Can Cause:
Pain
Swollen tongue
Infection
Severe bleeding
Blood poisoning
Increased saliva flow
Gum injury
Internal resorption (the tooth dissolves from the inside out)
Chipping of teeth
Tooth damage requiring crowns, root canals, or other restoration
Delayed healing
Allergic reactions to metals
Choking
Difficulty eating
Difficulty speaking
Life threatening diseases (for example, AIDS and hepatitis) caused from infected needles
Mouth jewelry attracts attention, sometimes the type you aren't looking for -- like dental and medical attention. Be cool. Think smart. Don't put your jewelry where your mouth is.
By Brian J. Gray, DDS, MAGD, FICO