Dental X-Rays For Your Child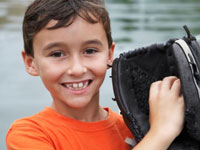 Parents often question the need for dental X-rays (radiographs or films). Just as a broken bone or lung disease require a radiograph for a diagnosis, dental decay or other pathology (disease) of the oral cavity may require a radiograph for diagnosis. Tooth decay in children spreads rapidly in primary (baby) teeth.
Bitewing Radiograph(s)
These films, usually two, identify the presence of decay between the back (posterior) teeth. Decay between the teeth is called interproximal decay. By four and one-half years of age, the baby (primary) molars usually touch or contact each other. Interproximal decay can spread to the adjacent tooth if the teeth are in contact. If there are spaces between the primary molars, and there is no other evidence of decay, these films may not be necessary until later. A lack of spacing between the primary teeth predisposes a child to a much higher incidence of interproximal decay. Early detection permits your dentist to restore (repair) the tooth in less time and preserve tooth structure.
Periapical x-Ray
This film is used to examine the area around the tip of the root(s) or in between the roots. Primary teeth have long roots before they are resorbed (dissolved) by the pressure of the erupting permanent tooth. A root fracture after trauma, deep decay, infection, the need for root canal treatment, the presence of extra teeth, or absence of developing teeth are some of the findings with this film.
Occlusal Radiograph
This film evaluates the presence or absence of the upper and lower front teeth (incisors). It may also be used to diagnose fractures of teeth or bone and extra or missing teeth.
Panoramic x-Ray
Some pediatric dentists request this film around seven or eight years of age, when all eight permanent incisors have erupted. Although this not as accurate in diagnosing decay, it may provide an alternative if a child has a gag reflex that has prohibited taking a periapical or bitewing radiograph. The film is outside the mouth in a machine that revolves around the head. A view of the entire upper and lower jaw is obtained. This is commonly obtained by orthodontists prior to treatment. The panoramic radiograph may reveal or evaluate:
Missing teeth
Extra teeth
Tumors, cysts, or other disease
Improper position of teeth
Broken bones after trauma
Development of the permanent teeth
Future crowding
Wisdom teeth
Cephalometric Radiograph
This film ordinarily is obtained by an orthodontist in order to make a diagnosis of a child's bite (occlusion) and to determine the best treatment plan. It measures the relationship of the bones of the head and jaws.
Now, you are "in the know" for your child's next dental X-rays!
by Jane A. Soxman, DDS
Dental Health: Tooth Brushing for Pre-Schoolers!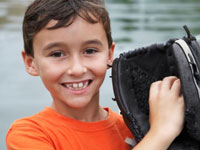 Teaching toddlers some brushing basics is important. Developing good brushing habits for sound dental health early sets a positive pattern.
How Early Should I Begin Letting My Child Brush Their Teeth by Themselves?
Children learn by example and often want to copy the behaviors they observe in adults. "Let me do it!" is often a favorite phrase during the preschool period, so this can work in your favor when they're ready to learn.
When children are about three years old, they're usually ready to learn how to brush with your supervision. Schedule a visit with the dentist. Let them advise you about your child's readiness for proper brushing. The pediatric dentist or dental hygienist will also show your child the right way to brush.
Between the ages of three and five, your child will likely need help brushing the inner surfaces and way in the back. By age seven, most kids are ready to brush alone.
What Are Some Ideas for Teaching Good Brushing Habits?
Take your child toothbrush shopping. Let them choose among all the colors and designs for child-size toothbrushes. Giving kids a chance to select the one they want helps them feel part of the process. Just make sure it has soft bristles.
Show your child how to brush properly. Place only a pea-sized amount (at most) of toothpaste on their toothbrush. Tell them this is all that's needed and no more should be used (too much toothpaste at a young age is not recommended). If your child objects to using toothpaste, just brushing alone is fine. Brushing with water works, too (but the fluoride in fluoride toothpaste acts as a cavity-fighter and provides extra protection).
Provide positive reinforcement. Give them colorful stickers. Make up a chart and have them place a sticker on it every time they brush.
Put a sticky note on the bathroom mirror with a smiley face reminding your child to brush. When your child is old enough to read, post the 10 Tips from the Tooth Fairy on the mirror or refrigerator for gentle dental reminders.
Praise them for their brushing ability. Tell them how shiny their teeth look.
Making brushing fun to learn sets the right tone! Make up a song using their name while they're brushing. Avoid any battles about brushing, since this will only discourage cooperation. Associating it with fun and enjoyment reinforces positive experiences.
Model good oral care habits. If they see you brush and floss regularly, that sets a good example they will likely want to follow.
Good oral care habits last a lifetime. Starting them early with good baby teeth care strengthens the habit and will help them keep their permanent teeth healthy, too!
by Brian J. Gray, DDS, MAGD, FICO