How Your Family Dentist Can Boost Your Child's Grades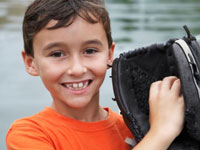 That's right - you read that headline correctly. Regular trips to the family dentist may improve children's grades. He won't tutor them in history or teach them their times tables. In fact, he probably won't teach much of anything beyond how to brush and floss, and chances are he won't quiz them on that any time soon. Still, regular trips to the pediatric dentist could improve your child's academic experience. Do we have your attention?
According to the American Academy of Pediatric Dentistry, children miss more than 51 million hours of school per year as a result of pediatric dental problems and related conditions. What's more, dental pain can distract students, cause their school work to suffer and lead to absences. In general, those with healthy teeth are more attentive in class, participate more in school-related activities and have better attendance. All of this spells better grades and a better all around education, thanks to regular child dental care, exams and education.
One of the most important exams your child can pass is the one performed by his or her family dentist, but you still have to do your part. Teach your child to floss once a day and brush twice a day with fluoride toothpaste, assuming he or she is old enough to use one. Also, a healthy diet will not only boost concentration, but result in healthier teeth and gums. Beware of frequent snacking and repeated exposure to sugary or acidic treats. Most importantly, be sure children attend their dental appointments at least twice a year. Pediatric dentists provide ongoing oral health assessments that will prevent dental conditions - not to mention school absences.
Your Children's Dentist - Thumb Sucking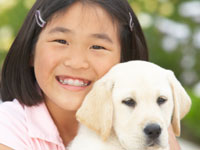 A Most Common Habit: Thumb Sucking
What's the most common thing nearly half of American toddlers do when they're teething and tired, relaxing, sleeping or being scolded? They suck their thumbs!
Thumb-sucking is the earliest and most common habit among children. It's nothing for parents to worry about — unless the habit persists. Only after age four does thumb-sucking threaten to damage children's teeth.
Some thumb-suckers simply rest the thumb in the mouth, sucking only at certain times. Others work at the habit, and can displace teeth severely. If, when you remove the thumb from your child's mouth you hear a "popping," it signals a great deal of pressure on the teeth that may cause an overbite or underbite. If the child is over four, you may want to discuss the habit with an orthodontist.
To help break a child of thumb-sucking, parents should;
Avoid punishing the child
Provide play materials to occupy the child's hands
Keep supervision to a minimum
Keep the home environment happy
One of the worst approaches is parental pressure — it can have a negative effect. On the other hand, peer pressure often works well, encouraging the child to imitate "grown-up" behavior.
Sometimes an orthodontic appliance can prevent or replace a thumb-sucking habit. Once a child becomes accustomed to the appliance, he or see may no longer interested in thumb-sucking.
The first step is to determine when and why a child is thumb-sucking. Your family or pediatric dentist has had lots of experience. Give them a call — they may be able to help.