Children's Speech Problems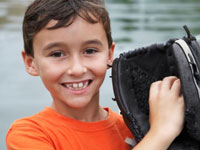 What did you say?
We've all heard young children speak "baby talk." Sometimes it can sound endearing — it may be a speech defect.
In early infancy, babies begin to make vowel sounds, usually mastered by age three, when they are finished teething. Consonant sounds are more difficult and come a little later on. By the eighth birthday, most children can pronounce all consonants and are 100% intelligible. But some children have more difficulty with speech and may need help learning.
Lisping — The most common speech defect is lisping, which is relatively easy to correct. Children who lisp cannot produce "s," "z," "sh," "ch," and "j" sounds. A lisp is heard when children cut off an "s" with the tongue instead of the front teeth. Prolonged thumb sucking or finger sucking can create an open bite and result in a lisp. Other causes are the loss of a primary tooth, impaired hearing, undeveloped ability to discriminate sounds, imitation of a relative or friend who lisps, or neurological disturbances.
Cleft palate — A cleft palate can dramatically affect a child's speech, and often requires oral surgery. Sometimes an orthodontist provides a plastic plate to cover the opening in the roof of the mouth — this allows the child to develop normal speech patterns until surgery can correct the palate.
Tongue thrusting — Tongue thrusting is another problem that can impair speech. This is essentially "reverse swallowing," and can cause improper tooth alignment. It may result from prolonged thumb sucking, which leaves a gap between the teeth and fosters the habit.
Your pediatric dentist may notice a speech problem first. The dentist often works with a team, including a speech pathologist, orthodontist and oral surgeon, to correct the speech problem. Your family dentist can let you know if they think anything is amiss with your child's developing speech patterns.
Dental Care: Malocclusion (Bad Bite) In Children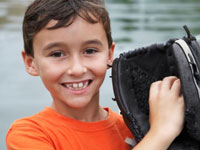 Malocclusion means "bad bite." It's when the upper and lower teeth are not meeting correctly, or when the teeth and jaws are not positioned for good dental health. This condition affects jaw growth, speech development, facial appearance, gum tissue health, and the ability to clean teeth properly.
What Causes Bad Bite In Children?
Many malocclusions are inherited. This includes crowding of teeth, too much space between teeth, extra or missing teeth, or irregularities in the jaws, face, and teeth.
Malocclusions also can be environmental in nature, caused by accidents, thumb sucking or sucking on a pacifier, obstruction by tonsils and adenoids, dental disease, or premature loss of primary (baby) teeth.
Why Is Dental Treatment Important?
If dental care is delayed or not taken, many problems get worse and more complicated (and expensive) to remedy. Malocclusion can cause excessive wear of tooth enamel, poor chewing, stress on both the gums and jawbone that support the teeth, chronic headaches, and facial and neck pains. Correcting the malocclusion can improve overall oral health and eliminate other potential problems.
Does the Pediatric Treatment Involve Removal of Some Teeth?
Sometimes when permanent teeth are crowded and their spacing and proper positioning is being affected by the primary teeth, removing primary or baby teeth is necessary. Otherwise, the severely crowded permanent teeth will either remain "stuck" (impacted) and unable to erupt, or they will erupt in an undesirable position.
Treatment of a malocclusion involves a thorough evaluation of your child's specific condition by a pediatric dentist and/or orthodontist. This may include recommendations for removal of some primary or permanent teeth because some malocclusions cannot be treated successfully without doing so. Extraction of some teeth in severely crowded conditions enhances proper alignment, function, and appearance, too.
How Is a Diagnosis of a Malocclusion Performed?
Each child's specific condition dictates the diagnostic procedures, but they often include several or all of the following:
Clinical exam.
Medical and dental history.
Impressions of the teeth for making plaster models.
Photographs of the face and teeth to provide a record of the child's facial appearance prior to treatment.
Panoramic X-rays showing all the upper and lower teeth in biting position, and teeth that are not yet visible.
Lateral (cephalometric) X-rays of the entire head showing the relationship of the teeth and jaws to the face and skull.
How Long Does Dental Care Treatment Take?
Each condition is unique and must be treated individually. The actual time is dependent on the growth of the child's mouth and face, the severity of the problem and the cooperation of the child in following instructions. Mild correction problems or early treatment may take only a few months. Treatment for more complex malocclusions range from one to three years.
An attractive smile, proper alignment, and healthy teeth are valuable rewards gained from a custom-designed treatment program made for smile after smile!
by Brian J. Gray, DDS, MAGD, FICO