Dental Care Tips For Soothing a Teething Baby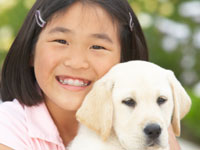 Teething time can be difficult for parents. A sleepless child can upset the whole family. And if you have a babysitter, you'll need to explain what to do if your child is having teething problems.
Here are a few pediatric dentistry suggestions for you, and your babysitter.
If your baby is under three, teething pains could cause crying and fussing. You can make the teething baby more comfortable by rubbing the gums with a wet gauze pad. A cool, gel-filled plastic teething ring can also help soothe sore gums and lead to sleep.
Using a teething ring or a bottle filled with water is fine. Be careful not to use milk or juice in the bottle because the liquid turns to acid and reacts with baby's teeth. Cavities can actually start here.
Children's Speech Problems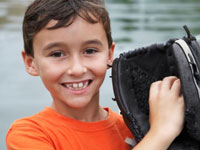 What did you say?
We've all heard young children speak "baby talk." Sometimes it can sound endearing — it may be a speech defect.
In early infancy, babies begin to make vowel sounds, usually mastered by age three, when they are finished teething. Consonant sounds are more difficult and come a little later on. By the eighth birthday, most children can pronounce all consonants and are 100% intelligible. But some children have more difficulty with speech and may need help learning.
Lisping — The most common speech defect is lisping, which is relatively easy to correct. Children who lisp cannot produce "s," "z," "sh," "ch," and "j" sounds. A lisp is heard when children cut off an "s" with the tongue instead of the front teeth. Prolonged thumb sucking or finger sucking can create an open bite and result in a lisp. Other causes are the loss of a primary tooth, impaired hearing, undeveloped ability to discriminate sounds, imitation of a relative or friend who lisps, or neurological disturbances.
Cleft palate — A cleft palate can dramatically affect a child's speech, and often requires oral surgery. Sometimes an orthodontist provides a plastic plate to cover the opening in the roof of the mouth — this allows the child to develop normal speech patterns until surgery can correct the palate.
Tongue thrusting — Tongue thrusting is another problem that can impair speech. This is essentially "reverse swallowing," and can cause improper tooth alignment. It may result from prolonged thumb sucking, which leaves a gap between the teeth and fosters the habit.
Your pediatric dentist may notice a speech problem first. The dentist often works with a team, including a speech pathologist, orthodontist and oral surgeon, to correct the speech problem. Your family dentist can let you know if they think anything is amiss with your child's developing speech patterns.