Dental X-Rays For Your Child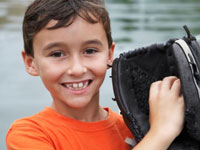 Parents often question the need for dental X-rays (radiographs or films). Just as a broken bone or lung disease require a radiograph for a diagnosis, dental decay or other pathology (disease) of the oral cavity may require a radiograph for diagnosis. Tooth decay in children spreads rapidly in primary (baby) teeth.
Bitewing Radiograph(s)
These films, usually two, identify the presence of decay between the back (posterior) teeth. Decay between the teeth is called interproximal decay. By four and one-half years of age, the baby (primary) molars usually touch or contact each other. Interproximal decay can spread to the adjacent tooth if the teeth are in contact. If there are spaces between the primary molars, and there is no other evidence of decay, these films may not be necessary until later. A lack of spacing between the primary teeth predisposes a child to a much higher incidence of interproximal decay. Early detection permits your dentist to restore (repair) the tooth in less time and preserve tooth structure.
Periapical x-Ray
This film is used to examine the area around the tip of the root(s) or in between the roots. Primary teeth have long roots before they are resorbed (dissolved) by the pressure of the erupting permanent tooth. A root fracture after trauma, deep decay, infection, the need for root canal treatment, the presence of extra teeth, or absence of developing teeth are some of the findings with this film.
Occlusal Radiograph
This film evaluates the presence or absence of the upper and lower front teeth (incisors). It may also be used to diagnose fractures of teeth or bone and extra or missing teeth.
Panoramic x-Ray
Some pediatric dentists request this film around seven or eight years of age, when all eight permanent incisors have erupted. Although this not as accurate in diagnosing decay, it may provide an alternative if a child has a gag reflex that has prohibited taking a periapical or bitewing radiograph. The film is outside the mouth in a machine that revolves around the head. A view of the entire upper and lower jaw is obtained. This is commonly obtained by orthodontists prior to treatment. The panoramic radiograph may reveal or evaluate:
Missing teeth
Extra teeth
Tumors, cysts, or other disease
Improper position of teeth
Broken bones after trauma
Development of the permanent teeth
Future crowding
Wisdom teeth
Cephalometric Radiograph
This film ordinarily is obtained by an orthodontist in order to make a diagnosis of a child's bite (occlusion) and to determine the best treatment plan. It measures the relationship of the bones of the head and jaws.
Now, you are "in the know" for your child's next dental X-rays!
by Jane A. Soxman, DDS
Smart Snacking Helps Prevent Tooth Decay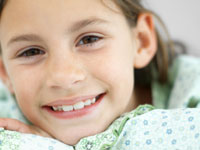 Wouldn't it be great to know that you could enjoy candy, especially chocolate, without feeling guilty about the damage it could do to your teeth? Here is some information that will ease that guilt!
The bacteria that cause tooth decay must have food to create the acid necessary to break down your tooth's enamel. There are many factors that may contribute to tooth decay, but the length of time that food residues remain in contact with your teeth is probably the most important. What is the food made of and how often is it eaten?
Sugar is not so bad as we once thought because it can be cleared from the mouth by saliva very quickly. How fast foods clear from the mouth is an important consideration in snack selection. If food remains on a tooth for more than twenty minutes, the decay-causing bacteria can use the food to make enough acid to begin breakdown of the enamel. A little bit now and a little bit later, over and over again, will eventually result in a cavity.
Saliva plays a big part in removing food residues from teeth after you have eaten. Foods that are cleared completely from the mouth in less than twenty minutes are considered to be better snacks in terms of decay. Some foods are easily removed by saliva. White bread, raisins, apples, bananas, hot fudge sundaes, and chocolate ordinarily clear from teeth in one minute! Gummy bears and fruit roll ups clear within minutes. Like chewing gum, they stimulate the production of saliva too. A high flow of saliva helps to clear foods and keeps the oral environment less acidic.
Starches such as salted crackers, cookies, salted chips, and other foods that you may find stick to your teeth are foods to avoid unless you can brush soon after eating. Foods that remain on the tooth surface longer than twenty minutes should be avoided.
Look for sugarless gum sweetened with xylitol. Xylitol has been shown to reduce decay.
Juices should be saved for mealtime. If you read the side of a juice carton, you will find that it contains 100% sugar. Constant exposure of baby teeth to juices will cause decay. A piece of fruit would be a better choice.
The combination of acid and sugar in soft drinks will cause enamel breakdown. Read the label on a soft drink. You will find phosphoric acid and sugar. Lemon drinks and eating lemons often will cause enamel erosion (break down).
Combining fat and protein makes for a great snack for a child. Peanut butter is a good example of this combo. When the teeth are developing and erupting (coming in), foods high in calcium and phosphorus should be a big part of a child's diet. Cheese, milk, yogurt, broccoli with cheese, and fish are some foods high in calcium and phosphorus.
When the permanent teeth first erupt, the enamel is not completely calcified (hardened). The final phase of calcification occurs in the mouth. Milk, not juices and soft drinks, should be flowing over those brand new incisors (front teeth).
Now for the best news of all -- chocolate does not cause decay! The tannins in chocolate make the bacteria stick together instead of on the tooth surface. Chocolate is a source of magnesium and protein. A little plain chocolate will satisfy hunger longer and will clear from the teeth in less than a minute. Chocolate is a snack that both you and your teeth will love!
by Jane A. Soxman, DDS