Pediatric Dentistry Prevent Tooth Decay in Children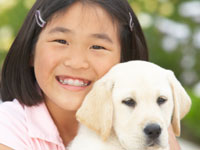 Snacking -- it's a frequent ritual for all ages and a regular part of most kids' lives. Healthy snack foods can contribute to a well-balanced diet that includes a variety of foods, giving our bodies the nutrients they need.
The Daily Food Pyramid established by the U.S. Department of Agriculture and the U.S. Department of Health and Human Services is a good guide to daily food choices. The best snacks for good dental health include foods rich in complex carbohydrates, vitamins, minerals, and protein. Fruits and vegetables are rich sources of vitamins and minerals, free of cholesterol, virtually fat-free, and low in calories -- which are good reasons for enjoying them as snacks.
Foods containing fats, oils, pastries, candy, and other sweets should be eaten sparingly. However, food products that are high in these things often have the large advertising budgets and are heavily promoted to children.
Serving your children healthy snacks or having these ingredients on hand for them to serve themselves is easy and convenient. Teaching them early about making healthful food choices is good guidance that lasts a lifetime.
At least five servings of fruits and vegetables are recommended daily. Snacks are a good way to get them. However, even natural sugars found in them can contribute to tooth decay. Limit the frequency of snacking because frequent "grazing" coats the teeth in cavity-causing bacteria.
Some research has shown that when cheese or peanuts are eaten with or after carbohydrates, they may help to counter the effects of acids harmful to teeth. In any event, be sure and rinse or brush after each snack!
Here are some fresh, snack ideas from a children's dentist for satisfying and healthy treats:
Munch on a colorful assortment of fresh fruit. There's a rainbow of snack ideas - apples, pears, grapes, kiwi, berries, peaches, plums, melons, and more. Try some of the new fruits, too, from around the world now available in produce departments.
Enjoy celery, broccoli, cauliflower, bell peppers, and other crunchy fresh vegetables plain or dunk them into a dressing or your favorite dip.
Zip up a zesty snack with citrus fruits including juicy oranges, grapefruit, and those easy-to-peel, "zipper" fruits: tangerines and tangelos.
Make frozen banana chips to have on hand whenever the snack urge strikes. Cut a green-tipped or ripe banana crosswise into rounds; spread rounds on aluminum foil, then wrap tightly. Freeze and enjoy a frosty snack.
Make fruit smoothies for refreshing, satisfying, and healthful snacks. Choose from the cool collection of fruits. Combine chunks of fruit like bananas, berries, or nectarines with some milk and ice, and whirl in a blender. You can also add some yogurt or fruit juice or sweeten smoothies with a little sugar, if desired. The ideas are endless with the rainbow of fruits, flavored yogurts, and juices.
Make a snack mix of low sugar cereals with peanuts, tiny snack crackers, sesame sticks, and raisins, or other dried fruits such as cranberries.
Encourage children to eat healthy snacks but limit the frequency of snacking. Let them know that brushing between meals whenever possible is an excellent way to fight cavities. Don't let snack attacks become plaque attacks!
by Brian J. Gray, DDS, MAGD, FICO
Dental Health: Tooth Brushing for Pre-Schoolers!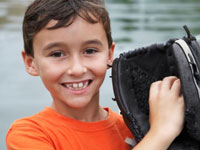 Teaching toddlers some brushing basics is important. Developing good brushing habits for sound dental health early sets a positive pattern.
How Early Should I Begin Letting My Child Brush Their Teeth by Themselves?
Children learn by example and often want to copy the behaviors they observe in adults. "Let me do it!" is often a favorite phrase during the preschool period, so this can work in your favor when they're ready to learn.
When children are about three years old, they're usually ready to learn how to brush with your supervision. Schedule a visit with the dentist. Let them advise you about your child's readiness for proper brushing. The pediatric dentist or dental hygienist will also show your child the right way to brush.
Between the ages of three and five, your child will likely need help brushing the inner surfaces and way in the back. By age seven, most kids are ready to brush alone.
What Are Some Ideas for Teaching Good Brushing Habits?
Take your child toothbrush shopping. Let them choose among all the colors and designs for child-size toothbrushes. Giving kids a chance to select the one they want helps them feel part of the process. Just make sure it has soft bristles.
Show your child how to brush properly. Place only a pea-sized amount (at most) of toothpaste on their toothbrush. Tell them this is all that's needed and no more should be used (too much toothpaste at a young age is not recommended). If your child objects to using toothpaste, just brushing alone is fine. Brushing with water works, too (but the fluoride in fluoride toothpaste acts as a cavity-fighter and provides extra protection).
Provide positive reinforcement. Give them colorful stickers. Make up a chart and have them place a sticker on it every time they brush.
Put a sticky note on the bathroom mirror with a smiley face reminding your child to brush. When your child is old enough to read, post the 10 Tips from the Tooth Fairy on the mirror or refrigerator for gentle dental reminders.
Praise them for their brushing ability. Tell them how shiny their teeth look.
Making brushing fun to learn sets the right tone! Make up a song using their name while they're brushing. Avoid any battles about brushing, since this will only discourage cooperation. Associating it with fun and enjoyment reinforces positive experiences.
Model good oral care habits. If they see you brush and floss regularly, that sets a good example they will likely want to follow.
Good oral care habits last a lifetime. Starting them early with good baby teeth care strengthens the habit and will help them keep their permanent teeth healthy, too!
by Brian J. Gray, DDS, MAGD, FICO