Bad Kid Dental Care Habits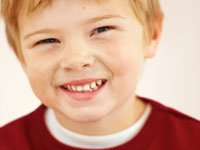 From thumb sucking to wiping their noses on their sleeves. Let's face it - kids have a lot of bad habits. While some of these habits amount to little more than lack of social grace, others can lead to more serious health problems. A few can even result in severe dental problems. Here are three of some of the most serious bad kid dental care habits leading to dental problems in children!
Thumb and Pacifier Sucking
Sure, it isn't attractive when your little one sucks his or her thumb, but child dental care issues (that result from prolonged practice not to mention concerns about the spreading of germs) can be quite serious. Chronic thumb and pacifier sucking could cause the child to have buck teeth, which would require orthodontic treatment down the line. Most children will stop this habit on their own between ages 2 and 4, but there's no guarantee. Try to intervene early on by instructing your child not to continue with the habit. If all else fails, there are certain topical products that leave a bitter taste in the child's mouth, dissuading the behavior.
Going to Bed With a Bottle
So often we imagine babies snuggled up in a crib, clinging to stuffed animals and a bottle. Like thumb sucking, some children tend to suck the bottle while asleep, leading to the same orthodontic issues listed above. What's more, putting any liquid apart from water in the bottle allows tooth- and gum-destroying bacteria to rest in the mouth for extended periods of time. Your best bet is to skip the bottle altogether. If that isn't possible, dilute the liquid a bit more each night with water until all that remains is water.
Swallowing Toothpaste
Toothpaste manufacturers have gone to great lengths to provide consumers with a product that not only fights plaque and gum disease, but also tastes great - sometimes a little too great. Children, particularly young children, are prone to swallowing toothpaste when brushing. It's often the result of using too much toothpaste. The problem? Too much fluoride is ingested into the child's body, causing a condition known as Fluorosis. Fluorosis allows white or brown spots to form on the teeth in severe cases.
This is actually a bad habit that is fairly easy to break. Try spending some time with the child explaining that a pea size drop of toothpaste is adequate and teach them how to brush, rinse and spit like a pro.
Understanding and breaking these habits early will help you and your child establish a good oral hygiene regimen. If you have questions about how to properly care for your child's teeth, or if you think your child's bad dental habits have resulted in harm, schedule an appointment with a kid dentist!
Dental Disease And Children's Gums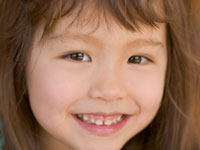 If your child complains that his or her young gums are sore, tender, or bleed after brushing or flossing, these might be warning signs of gingivitis, an early stage of periodontal disease. The word "periodontal" comes from the Greek meaning "around the tooth." Healthy gum tissue and bone support each tooth.
Young gum disease threatens the support system that healthy teeth need. If not treated, it can lead to serious problems including tooth loss.
What Causes Children's Gum Disease?
Certain types of bacteria found in plaque (that sticky film in the mouth) create toxins. This irritates the gums, causing tenderness and bleeding. As gums loosen around teeth, little pockets form and fill with plaque. If left untreated, the toxins destroy the tissues surrounding the teeth. This can lead to further complications, so it's important to treat young gum disease promptly.
What Can Be Done to Prevent Children's Gum Disease?
Good daily pediatric dental care is essential. If plaque isn't removed completely every 24 to 48 hours, it hardens into tartar, that can only be removed by pediatric dental care professionals.
Brushing twice a day and cleaning between teeth helps to remove plaque. If children are too young to brush themselves, they will need your help. Use a soft-bristled toothbrush and fluoride toothpaste.
Clean between teeth with dental floss or interdental cleaners (special picks, brushes, or sticks) to remove food particles trapped between teeth and plaque. Anytime two teeth touch, they must be cleaned in between. Tooth decay and young gum disease often starts in these areas, so flossing is very important! Teach children how to floss and help them until they're old enough to do it themselves.
Teens, ages 12 or older, can use an anti-microbial mouth rinse approved by the American Dental Association. This helps in controlling the plaque that forms above the gum line. These rinses are available only by prescription from your pediatric dentist.
Regular pediatric dental care check-ups and cleanings, usually about twice a year, help to remove the plaque that hardens into tartar under the gum line. Tartar can only be removed professionally.
How Is Gingivitis Treated in Children?
In the early stages, proper pediatric dental care helps restore gum tissue along with plaque and tartar removal around the teeth. Your dentist will design a pediatric dental care program for your child's specific needs. Doing so will help prevent young gum disease.
By Brian J. Gray, DDS, MAGD, FICO