Facts About Dental Fluoride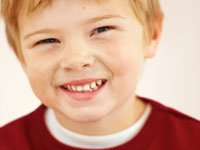 We have all received the benefit that fluoride offers in preventing tooth decay. The following facts will provide you with information to assure that your child's teeth receive the optimum amount of fluoride.
Fluoride strengthens the outer layer of enamel, making teeth more resistant to the acid attack of decay-causing bacteria. It can be of benefit not only when the teeth are forming, but also after they have erupted (come in).
Primary (baby) teeth begin to develop at six weeks during pregnancy. Fluoride supplements for mom during her pregnancy do not benefit baby's developing teeth. Only tiny amounts of fluoride are found in breast milk.
Well water may contain large amounts of fluoride. Before giving your child fluoride supplements, have your well water tested for fluoride content. Fluoride sticks to the sides of glass containers. Use a plastic container for an accurate test result.
Bottled water may also contain significant amounts of fluoride. The amount of fluoride will vary with the season of the year, the water table, and the plant from which the water was obtained.
Juices, tea, and soft drinks may contain fluoride. White grape juice has the highest concentration of fluoride. Fish and chicken baby food may also provide fluoride.
Do not assume that your home water filter system removes all fluoride. The age of the system and the filter may have a significant effect on your fluoride level. Have your water tested before giving your child a fluoride supplement.
Do not use fluoridated toothpaste before two years of age. Dispense only a dab the size of a match head for children under five. Children's toothpaste has the same amount of fluoride as the adult brands.
If your home water supply is not fluoridated, the water at school, daycare, or the caregiver's home may be optimally fluoridated.
Your physician or pediatric dentist may prescribe a fluoride supplement. Once the chewable tablet is begun, fluoride and vitamins should be taken separately. Vitamins work best with food, and fluoride is best absorbed from an empty stomach. Fluoride tablets should be taken at bedtime after the teeth are brushed. Chew, swish, and swallow.
There are many sources of fluoride other than your home water supply. When considering a fluoride supplement for your child, remember your fluoride facts!

by Jane A. Soxman, DDS
Dental X-Rays For Your Child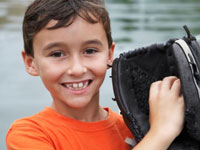 Parents often question the need for dental X-rays (radiographs or films). Just as a broken bone or lung disease require a radiograph for a diagnosis, dental decay or other pathology (disease) of the oral cavity may require a radiograph for diagnosis. Tooth decay in children spreads rapidly in primary (baby) teeth.
Bitewing Radiograph(s)
These films, usually two, identify the presence of decay between the back (posterior) teeth. Decay between the teeth is called interproximal decay. By four and one-half years of age, the baby (primary) molars usually touch or contact each other. Interproximal decay can spread to the adjacent tooth if the teeth are in contact. If there are spaces between the primary molars, and there is no other evidence of decay, these films may not be necessary until later. A lack of spacing between the primary teeth predisposes a child to a much higher incidence of interproximal decay. Early detection permits your dentist to restore (repair) the tooth in less time and preserve tooth structure.
Periapical x-Ray
This film is used to examine the area around the tip of the root(s) or in between the roots. Primary teeth have long roots before they are resorbed (dissolved) by the pressure of the erupting permanent tooth. A root fracture after trauma, deep decay, infection, the need for root canal treatment, the presence of extra teeth, or absence of developing teeth are some of the findings with this film.
Occlusal Radiograph
This film evaluates the presence or absence of the upper and lower front teeth (incisors). It may also be used to diagnose fractures of teeth or bone and extra or missing teeth.
Panoramic x-Ray
Some pediatric dentists request this film around seven or eight years of age, when all eight permanent incisors have erupted. Although this not as accurate in diagnosing decay, it may provide an alternative if a child has a gag reflex that has prohibited taking a periapical or bitewing radiograph. The film is outside the mouth in a machine that revolves around the head. A view of the entire upper and lower jaw is obtained. This is commonly obtained by orthodontists prior to treatment. The panoramic radiograph may reveal or evaluate:
Missing teeth
Extra teeth
Tumors, cysts, or other disease
Improper position of teeth
Broken bones after trauma
Development of the permanent teeth
Future crowding
Wisdom teeth
Cephalometric Radiograph
This film ordinarily is obtained by an orthodontist in order to make a diagnosis of a child's bite (occlusion) and to determine the best treatment plan. It measures the relationship of the bones of the head and jaws.
Now, you are "in the know" for your child's next dental X-rays!
by Jane A. Soxman, DDS