Kid's Dentist: Time For Teething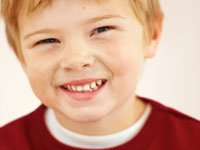 If babies could talk, they might have a few things to say about their troubles with teething: "Ooohh, do my gums ever hurt!" Since they can't, parents and caregivers must stay alert to signs of teething: drooling, fussiness, redness of gums and cheeks, sleeplessness, and maybe a loss of appetite. The first signs of teething may begin as early as three to four months of age. Baby teeth usually begin appearing between the ages of 6 to 16 months.
What Can Help My Child Feel More Comfortable While Teething?
Pay attention to the signs of teething and offer a big dose of TLC (tender loving care) and some relief of discomfort with some tried and true teething tips:
Gently massage the baby's gums with a clean, cool, damp gauze pad or with your clean finger.
Give your baby a cool non-plastic spoon to place into his or her mouth. Do not freeze the spoon.
Allow your baby to chew on a cooled teething ring or moistened washcloth. Note: For safety reasons, do not leave your baby unattended while chewing on these things. Avoid plastic teething rings because a piece may break off and the baby's mouth could be cut or choking could occur. Also, teething rings should not be placed in the freezer. The frozen ring may stick to the lip, tongue, or gums and tear the tissue.
If you apply over-the-counter topical medication, or if you use Acetaminophen (Tylenol or Tempra), follow the instructions on the label carefully and consult your doctor. Too much may cause liver damage. Over-the-counter medications should not be routinely given to an infant without a doctor's approval.
How Should I Care for My Baby's New Teeth?
As soon as your baby's teeth are visible, it's time to begin brushing! Baby teeth are susceptible to tooth decay that can lead to damage of permanent teeth. In the morning and before bedtime, brush teeth with a soft-bristled toothbrush and water only. Do not use toothpaste until your baby reaches two years of age to prevent accidental swallowing. After that, use just a dab (the size of a match-head) of fluoride toothpaste.
Be sure to schedule your child's first dental exam around the time of his or her first birthday (definitely no later than 16 months of age). Routine dental visits reveal any conditions that can be treated early as well as establish your child's dentist as a "healthy smile" partner.
By Brian J. Gray, DDS, MAGD, FICO
Stainless Steel Dental Crowns For Children's Molars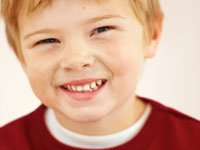 Primary (baby) molars with extensive decay, malformed enamel, advanced wear due to grinding, a missing replacement tooth, pulpotomy, or fracture may require coverage with a stainless steel crown in order to provide a durable restoration (filling).
Primary molars are shaped differently than permanent molars. Large amalgam (silver fillings) are not recommended for use in primary molars because they often fracture or crack. A fractured filling may not be evident until it falls out or until the tooth shows signs of abscess (infection). If a filling does fracture, decay may travel to the center of the tooth where the nerve and blood vessels lie. If the infection is caught early enough, a pulpotomy (described later) can be performed. If abscess has occurred, the tooth will often need to be extracted (removed). Early loss of a primary molar can create multiple other problems. Primary molars, and in particular first primary molars with decay on more than one surface, will have the benefit of a much more durable and reliable restoration with a stainless steel crown.
dental crowns. Not only are they more expensive, but the color match and the fit may not be as good. Tooth-colored crowns may appear to be bulky and the acrylic facings can fracture off, leaving exposed metal.
A primary molar may be restored with a stainless steel crown during one appointment. The decay is removed, the tooth is shaped for a crown, the appropriate size crown is selected, and the crown is cemented. The crown must be brushed when brushing the other teeth. Sticky foods such as caramels and taffy can pull the crown off. If this should occur, your pediatric dentist can usually replace the same crown in a few minutes.
A pulpotomy is necessary if bacteria have entered the area deep inside the crown of the tooth because of decay or fracture. This area is called the pulp chamber. It contains nerves, blood vessels, and other tissues that are necessary for the tooth to be healthy. A pulpotomy removes the unhealthy tissues only in the crown portion of the tooth. The nerves, blood supply, and tissues in the root(s) are not removed. If the bacteria are not removed, the tooth will abscess. A medicated filling is placed in the pulp chamber after the infected tissues are removed. A stainless steel crown should be placed in order to provide support for the walls of the tooth.
The tooth is once again healthy and in most cases will last until the Tooth Fairy says it's time to go!
by Jane A. Soxman, DDS