The Child Mouth, Timeline For Teeth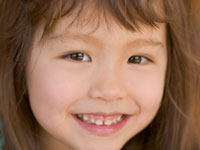 The appearance of your baby's first tooth is an exciting landmark! Nature has its own schedule for every child's mouth. Although at birth, babies already have 20 primary teeth, they appear at different rates. Some teeth arrive early and others a bit later.
Having some general guidelines and recommended care at each stage of development is helpful for caregivers.
3 to 4 Months:
Teething begins and your baby's gums may be sore because the teeth are getting ready to break through the gums. Signs to watch for include redness, fussiness, sleeplessness, drooling, and perhaps some loss of appetite.
8 to 12 Months:
The four front teeth (incisors) usually appear, followed by other front teeth. As soon as the first tooth erupts, it may be cleaned with a clean, wet washcloth or wet gauze. The gums should also be gently wiped. If a toothbrush is used, it should be an appropriate size and soft-bristled. Use only water with the toothbrush at this time. Schedule your child's first dental exam by his or her first birthday (and definitely no later than 16 months of age).
12 to 18 Months:
Baby is getting a mouthful! Incisor baby teeth and canines are common; first molars also can make their entrance. Wean your baby from the bottle to prevent "baby bottle tooth decay."
18 Months to 3 Years:
Canines, first molars, and second molars are expected. Schedule your child's dental exams every six months. Help your child form good oral hygiene habits; teach them how to brush.
3 to 5 Years:
All the primary or baby teeth should be in place. Some of the permanent teeth are getting ready to take their place. Your child likely needs help with some areas of brushing, like the inner surfaces and way in the back. Make sure to check your child's teeth after brushing is complete. By age five, your child is ready to floss with your help.
5 Years and Older:
The "toothless grin" stage begins as primary teeth are lost over several years. Permanent teeth emerge, usually beginning with the upper and lower molars. You may want to consult with an orthodontist about any potential needed correction.
Late Teens to Early Twenties:
The wisdom teeth need to be evaluated for proper placement and whether the size of the jaw can accommodate them.
Scheduling dental exams every six months is an important part of every stage of the developing mouth and plays an active role in good oral hygiene practices.
By Brian J. Gray, DDS, MAGD, FICO
Bad Kid Dental Care Habits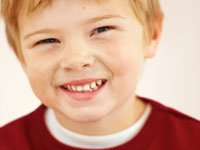 From thumb sucking to wiping their noses on their sleeves. Let's face it - kids have a lot of bad habits. While some of these habits amount to little more than lack of social grace, others can lead to more serious health problems. A few can even result in severe dental problems. Here are three of some of the most serious bad kid dental care habits leading to dental problems in children!
Thumb and Pacifier Sucking
Sure, it isn't attractive when your little one sucks his or her thumb, but child dental care issues (that result from prolonged practice not to mention concerns about the spreading of germs) can be quite serious. Chronic thumb and pacifier sucking could cause the child to have buck teeth, which would require orthodontic treatment down the line. Most children will stop this habit on their own between ages 2 and 4, but there's no guarantee. Try to intervene early on by instructing your child not to continue with the habit. If all else fails, there are certain topical products that leave a bitter taste in the child's mouth, dissuading the behavior.
Going to Bed With a Bottle
So often we imagine babies snuggled up in a crib, clinging to stuffed animals and a bottle. Like thumb sucking, some children tend to suck the bottle while asleep, leading to the same orthodontic issues listed above. What's more, putting any liquid apart from water in the bottle allows tooth- and gum-destroying bacteria to rest in the mouth for extended periods of time. Your best bet is to skip the bottle altogether. If that isn't possible, dilute the liquid a bit more each night with water until all that remains is water.
Swallowing Toothpaste
Toothpaste manufacturers have gone to great lengths to provide consumers with a product that not only fights plaque and gum disease, but also tastes great - sometimes a little too great. Children, particularly young children, are prone to swallowing toothpaste when brushing. It's often the result of using too much toothpaste. The problem? Too much fluoride is ingested into the child's body, causing a condition known as Fluorosis. Fluorosis allows white or brown spots to form on the teeth in severe cases.
This is actually a bad habit that is fairly easy to break. Try spending some time with the child explaining that a pea size drop of toothpaste is adequate and teach them how to brush, rinse and spit like a pro.
Understanding and breaking these habits early will help you and your child establish a good oral hygiene regimen. If you have questions about how to properly care for your child's teeth, or if you think your child's bad dental habits have resulted in harm, schedule an appointment with a kid dentist!