Seal Out Tooth Decay in Your Children's Teeth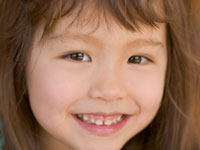 Sealants are a plastic barrier to protect the chewing surfaces of the eight permanent molars from decay. The six-year molars usually erupt (come in) between five and seven years of age and the twelve-year molars erupt around 11 to 14 years of age. More than 90% of decay occurs in the deep grooves of the chewing surfaces of these molars. When teeth first erupt, the enamel is not completely calcified (hardened), and the teeth are very susceptible to decay. Dental sealants should be applied as soon as the molars are in far enough to see the entire chewing surface. If a primary (baby) molar has early decay on a chewing surface, and the child is cooperative, a sealant may be recommended. Once decay has penetrated the second layer of tooth structure, a restoration (filling) must be placed.
The application of a sealant is painless, but does require cooperation. A very high flow of saliva, a strong gag reflex, or an inability to open the mouth wide enough for access to the molars, will make the procedure difficult. Your pediatric dentist will use various methods to manage these circumstances. The most important requirement for a quality sealant is your child's cooperation.
In order to see how the sealant is performed, you and your child could ask if you may watch the procedure being performed on another child or your dentist may have a videotape or DVD that you may view. There are four six-year molars and four twelve-year molars. Because the teeth do not always come in at the same time, all four permanent molars may not be sealed during one visit.
First, the tooth must be isolated from saliva. Remember, the tooth must be dry for the sealant to bond tightly to the tooth surface. A gel will be applied for 15 seconds. After this is rinsed away with water, the sealant is applied (usually with a tiny brush). A bright light is used to harden the sealant. There is no heat or sensation from the light. The procedure takes only minutes for each tooth. Your child may eat right away.
Sealants do wear out. Retention rates are about 85% over three years. Grinding teeth and chewing ice, popcorn kernels, or hard candy can crack sealants. How well the child's enamel bonds with the sealant will often determine how long a sealant will last. If a sealant is lost, the tooth is still more protected from decay than if the tooth had never been sealed. Decay will probably not occur if the sealant is replaced during the next six-month dental check-up. If your child has had a problem with cavities and his or her oral hygiene is very poor, decay can still occur.
Sealants are one of the very best things dentistry has to offer. Seal out your child's decay!
by Jane A. Soxman, DDS
Dental Sealants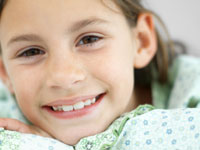 Imagine a barrier applied to teeth that can effectively prevent tooth decay! That's the miracle-working power of dental sealants, a thin plastic film (usually either white, pink, orange, or yellow) applied to the chewing surfaces of back teeth and other teeth with deep grooves. They act as a dental fortress, sealing out small food particles and cavity-causing bacteria.
Sealants Are Highly Effective
Scientific studies have proven that sealants are greater than 90% effective in protecting teeth from decay. As long as the sealant remains intact, cavity-causing food particles and bacteria cannot penetrate.
Durability
Sealants provide protection for three to five years. They serve as an excellent safeguard against cavities, especially critical for children in protecting their teeth during cavity-prone years. Adults also can benefit from sealant protection, particularly those susceptible to decay. Regular dental check-ups with your pediatric dentist are important for monitoring the durability of the sealants' bond.
Recommended for Children
Protecting children's permanent teeth from cavities is a dental health priority. Sealants are designed to protect the chewing surfaces of teeth since they're the most susceptible to the formation of cavities. Fluoride products and treatments don't provide the same type of cavity protection as do sealants. Sealants are superior in penetrating the grooved surfaces of teeth. Without the protection of sealants, 95% of people eventually get cavities in the grooved surfaces of their teeth. It makes sense to beat the odds and protect them from becoming a statistic.
How Are Dental Sealants Applied?
Sealant treatment is painless and quick, taking just a few minutes for each tooth. The first step is cleaning and rinsing the surface of the tooth. A cleansing gel is applied to the tooth, and 15 seconds later, rinsed away with water. The dentist then applies the sealant and it is allowed to harden, often times by using a special blue curing light. In less than an hour, teeth receive years of protection against cavities. Sealants have been approved by the American Dental Association Council on Dental Therapeutics since 1972, offering patients safe, effective, and painless protection against cavities. The latest generation of sealants actually can release fluoride if needed, to add double protection to the teeth.
by Brian J. Gray, DDS, MAGD, FICO