Why Choose a Pediatric Dentist?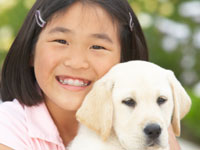 Pediatric dentistry was created to fill a void in traditional dental care. Your child's teeth and dental issues are different from yours, and therefore need special care. For instance, when was the last time your family dentist addressed your thumb- or pacifier- sucking habit, or explained that going to bed with a bottle can negatively affect your oral health? As a parent, you have to deal with teething and teaching another person how to properly care for his or her teeth, and pediatric dentists are equipped to deal with these issues. Both you and your child will appreciate the specialized care that a specialist can provide.
So, what sets a pediatric dentist apart from your traditional dentist? Pediatric dentists undergo additional training to learn about children's growth, development and psychology. They also take behavior management classes, where they learn to deal with nervous or hard-to-handle young patients. Here are just some of the things pediatric dentists can do to make this time easier (and healthier) for both you and your child:
Preventive care. Small mouths have special needs, such as child-size toothbrushes and fluoride-free tooth paste. A pediatric dental specialist will not only show your child how to properly care for his or her teeth, but, even more importantly, teach you how to supervise and guide his or her preventive dental care.
Monitoring growth.As children begin to grow primary teeth, pediatric dentists keep an eye on the bite and jaw alignment to predict, prevent and treat orthodontic problems.
Teething. Only a parent can truly understand the struggles that accompany a teething child. They're in pain and grumpy while you're virtually helpless (and so probably just as grumpy!). A pediatric dentist can show you how to alleviate your child's discomfort properly clean the teeth once they erupt.
Baby bottle tooth decay. If you send your child off to bed with a bottle, you aren't alone. It will often put an end to that incessant crying you've been struggling with most of the night. Unfortunately this habit can have terrible consequences. Sucking the bottle tip can misalign teeth. What's more, if the bottle contains any fluid other than water (particularly sugary fluids like juice), it can promote the growth of bacteria in the mouth and lead to tooth decay. A pediatric dentistry expert can minimize the effects of baby bottle tooth decay.
Thumb- and pacifier-sucking. Sucking thumbs, pacifiers and baby bottle tips can cause teeth to either shift out of line or grow improperly. A pediatric dentist will advise you on how to overcome these bad habits, which are often difficult to break.
You can also expect a different sort of "bedside manner" from a pediatric dental specialist, who has been trained on soothing the worried minds of dental phobic children.
Pediatric Dentistry Prevent Tooth Decay in Children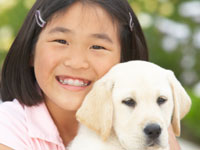 Snacking -- it's a frequent ritual for all ages and a regular part of most kids' lives. Healthy snack foods can contribute to a well-balanced diet that includes a variety of foods, giving our bodies the nutrients they need.
The Daily Food Pyramid established by the U.S. Department of Agriculture and the U.S. Department of Health and Human Services is a good guide to daily food choices. The best snacks for good dental health include foods rich in complex carbohydrates, vitamins, minerals, and protein. Fruits and vegetables are rich sources of vitamins and minerals, free of cholesterol, virtually fat-free, and low in calories -- which are good reasons for enjoying them as snacks.
Foods containing fats, oils, pastries, candy, and other sweets should be eaten sparingly. However, food products that are high in these things often have the large advertising budgets and are heavily promoted to children.
Serving your children healthy snacks or having these ingredients on hand for them to serve themselves is easy and convenient. Teaching them early about making healthful food choices is good guidance that lasts a lifetime.
At least five servings of fruits and vegetables are recommended daily. Snacks are a good way to get them. However, even natural sugars found in them can contribute to tooth decay. Limit the frequency of snacking because frequent "grazing" coats the teeth in cavity-causing bacteria.
Some research has shown that when cheese or peanuts are eaten with or after carbohydrates, they may help to counter the effects of acids harmful to teeth. In any event, be sure and rinse or brush after each snack!
Here are some fresh, snack ideas from a children's dentist for satisfying and healthy treats:
Munch on a colorful assortment of fresh fruit. There's a rainbow of snack ideas - apples, pears, grapes, kiwi, berries, peaches, plums, melons, and more. Try some of the new fruits, too, from around the world now available in produce departments.
Enjoy celery, broccoli, cauliflower, bell peppers, and other crunchy fresh vegetables plain or dunk them into a dressing or your favorite dip.
Zip up a zesty snack with citrus fruits including juicy oranges, grapefruit, and those easy-to-peel, "zipper" fruits: tangerines and tangelos.
Make frozen banana chips to have on hand whenever the snack urge strikes. Cut a green-tipped or ripe banana crosswise into rounds; spread rounds on aluminum foil, then wrap tightly. Freeze and enjoy a frosty snack.
Make fruit smoothies for refreshing, satisfying, and healthful snacks. Choose from the cool collection of fruits. Combine chunks of fruit like bananas, berries, or nectarines with some milk and ice, and whirl in a blender. You can also add some yogurt or fruit juice or sweeten smoothies with a little sugar, if desired. The ideas are endless with the rainbow of fruits, flavored yogurts, and juices.
Make a snack mix of low sugar cereals with peanuts, tiny snack crackers, sesame sticks, and raisins, or other dried fruits such as cranberries.
Encourage children to eat healthy snacks but limit the frequency of snacking. Let them know that brushing between meals whenever possible is an excellent way to fight cavities. Don't let snack attacks become plaque attacks!
by Brian J. Gray, DDS, MAGD, FICO