Dental Health: Tooth Brushing for Pre-Schoolers!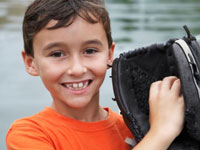 Teaching toddlers some brushing basics is important. Developing good brushing habits for sound dental health early sets a positive pattern.
How Early Should I Begin Letting My Child Brush Their Teeth by Themselves?
Children learn by example and often want to copy the behaviors they observe in adults. "Let me do it!" is often a favorite phrase during the preschool period, so this can work in your favor when they're ready to learn.
When children are about three years old, they're usually ready to learn how to brush with your supervision. Schedule a visit with the dentist. Let them advise you about your child's readiness for proper brushing. The pediatric dentist or dental hygienist will also show your child the right way to brush.
Between the ages of three and five, your child will likely need help brushing the inner surfaces and way in the back. By age seven, most kids are ready to brush alone.
What Are Some Ideas for Teaching Good Brushing Habits?
Take your child toothbrush shopping. Let them choose among all the colors and designs for child-size toothbrushes. Giving kids a chance to select the one they want helps them feel part of the process. Just make sure it has soft bristles.
Show your child how to brush properly. Place only a pea-sized amount (at most) of toothpaste on their toothbrush. Tell them this is all that's needed and no more should be used (too much toothpaste at a young age is not recommended). If your child objects to using toothpaste, just brushing alone is fine. Brushing with water works, too (but the fluoride in fluoride toothpaste acts as a cavity-fighter and provides extra protection).
Provide positive reinforcement. Give them colorful stickers. Make up a chart and have them place a sticker on it every time they brush.
Put a sticky note on the bathroom mirror with a smiley face reminding your child to brush. When your child is old enough to read, post the 10 Tips from the Tooth Fairy on the mirror or refrigerator for gentle dental reminders.
Praise them for their brushing ability. Tell them how shiny their teeth look.
Making brushing fun to learn sets the right tone! Make up a song using their name while they're brushing. Avoid any battles about brushing, since this will only discourage cooperation. Associating it with fun and enjoyment reinforces positive experiences.
Model good oral care habits. If they see you brush and floss regularly, that sets a good example they will likely want to follow.
Good oral care habits last a lifetime. Starting them early with good baby teeth care strengthens the habit and will help them keep their permanent teeth healthy, too!
by Brian J. Gray, DDS, MAGD, FICO
Dental Disease And Children's Gums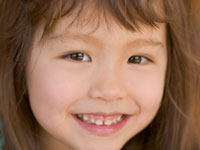 If your child complains that his or her young gums are sore, tender, or bleed after brushing or flossing, these might be warning signs of gingivitis, an early stage of periodontal disease. The word "periodontal" comes from the Greek meaning "around the tooth." Healthy gum tissue and bone support each tooth.
Young gum disease threatens the support system that healthy teeth need. If not treated, it can lead to serious problems including tooth loss.
What Causes Children's Gum Disease?
Certain types of bacteria found in plaque (that sticky film in the mouth) create toxins. This irritates the gums, causing tenderness and bleeding. As gums loosen around teeth, little pockets form and fill with plaque. If left untreated, the toxins destroy the tissues surrounding the teeth. This can lead to further complications, so it's important to treat young gum disease promptly.
What Can Be Done to Prevent Children's Gum Disease?
Good daily pediatric dental care is essential. If plaque isn't removed completely every 24 to 48 hours, it hardens into tartar, that can only be removed by pediatric dental care professionals.
Brushing twice a day and cleaning between teeth helps to remove plaque. If children are too young to brush themselves, they will need your help. Use a soft-bristled toothbrush and fluoride toothpaste.
Clean between teeth with dental floss or interdental cleaners (special picks, brushes, or sticks) to remove food particles trapped between teeth and plaque. Anytime two teeth touch, they must be cleaned in between. Tooth decay and young gum disease often starts in these areas, so flossing is very important! Teach children how to floss and help them until they're old enough to do it themselves.
Teens, ages 12 or older, can use an anti-microbial mouth rinse approved by the American Dental Association. This helps in controlling the plaque that forms above the gum line. These rinses are available only by prescription from your pediatric dentist.
Regular pediatric dental care check-ups and cleanings, usually about twice a year, help to remove the plaque that hardens into tartar under the gum line. Tartar can only be removed professionally.
How Is Gingivitis Treated in Children?
In the early stages, proper pediatric dental care helps restore gum tissue along with plaque and tartar removal around the teeth. Your dentist will design a pediatric dental care program for your child's specific needs. Doing so will help prevent young gum disease.
By Brian J. Gray, DDS, MAGD, FICO