Facts About Dental Fluoride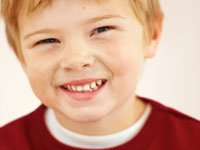 We have all received the benefit that fluoride offers in preventing tooth decay. The following facts will provide you with information to assure that your child's teeth receive the optimum amount of fluoride.
Fluoride strengthens the outer layer of enamel, making teeth more resistant to the acid attack of decay-causing bacteria. It can be of benefit not only when the teeth are forming, but also after they have erupted (come in).
Primary (baby) teeth begin to develop at six weeks during pregnancy. Fluoride supplements for mom during her pregnancy do not benefit baby's developing teeth. Only tiny amounts of fluoride are found in breast milk.
Well water may contain large amounts of fluoride. Before giving your child fluoride supplements, have your well water tested for fluoride content. Fluoride sticks to the sides of glass containers. Use a plastic container for an accurate test result.
Bottled water may also contain significant amounts of fluoride. The amount of fluoride will vary with the season of the year, the water table, and the plant from which the water was obtained.
Juices, tea, and soft drinks may contain fluoride. White grape juice has the highest concentration of fluoride. Fish and chicken baby food may also provide fluoride.
Do not assume that your home water filter system removes all fluoride. The age of the system and the filter may have a significant effect on your fluoride level. Have your water tested before giving your child a fluoride supplement.
Do not use fluoridated toothpaste before two years of age. Dispense only a dab the size of a match head for children under five. Children's toothpaste has the same amount of fluoride as the adult brands.
If your home water supply is not fluoridated, the water at school, daycare, or the caregiver's home may be optimally fluoridated.
Your physician or pediatric dentist may prescribe a fluoride supplement. Once the chewable tablet is begun, fluoride and vitamins should be taken separately. Vitamins work best with food, and fluoride is best absorbed from an empty stomach. Fluoride tablets should be taken at bedtime after the teeth are brushed. Chew, swish, and swallow.
There are many sources of fluoride other than your home water supply. When considering a fluoride supplement for your child, remember your fluoride facts!

by Jane A. Soxman, DDS
Ten Tips About Baby Teeth From The Tooth Fairy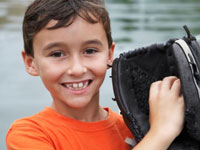 I love teeth! They're so shiny, white, and bright! They're so pretty and sparkly. That's why I collect them. But I don't want them until you don't need them anymore, so I wait for the perfect time. It usually begins when you're about five years old or older, but sometimes it happens much later. Some of your baby teeth will start to wiggle and jiggle. Then, they are finally nudged out by your grown-up teeth.
When a loose tooth comes out, that's when I go into action. Collecting teeth is my job. Kids know how much I like teeth, so they save them for me. They put them out at night, sometimes in tiny tooth pillows or plastic cases. Sometimes, I find them underneath pillows when kids are sleeping. I like it when kids think about me. I think each child is special and so are their teeth! That's why I have some tips for keeping your teeth in tip-top shape:
Brush your teeth in the morning and at night. Twice a day is nice (and needed to keep your teeth healthy.) It's even better if you brush after eating snacks, too.
When brushing, use just a tiny dab of toothpaste, the size of a match head.
Brush the outside and inside of every tooth. Brush your teeth for about two to three minutes, about the time it takes to sing, "Twinkle, Twinkle Little Star" eight times!
When brushing, don't ever eat the toothpaste. It's meant for your teeth, not your tummy.
Brush your tongue (gently!). Those nasty cavity-causing germs like to hang out on your soft tongue, so you must brush them away.
Floss every day. Dental floss is a piece of string that looks like thread or yarn. It's used to clean stuff out between your teeth. Ask an adult to help you. Those cavity-causing germs also like the places between your teeth to hide. Flossing gets rid of them.
Eat healthy snacks. Your teeth like fruits, vegetables, bread, milk, and cheese that give them vitamins, minerals, and other good things for them to grow strong and shiny.
Don't eat too many sugary foods like candy, cakes, or other desserts. Sugar is the food that those nasty cavity-causing germs really love! It gives them just what they need to go to work causing cavities on your teeth.
Don't crunch on ice! (My friend, the Ice Fairy, doesn't like it either!) Ice wears down your teeth really fast.
Visit a dentist twice a year. Dentists are my friends because they help to keep kid's teeth in really good shape.
Take good care of your teeth. Your baby teeth have a big job. They help your permanent teeth (the ones you'll keep forever) come into your mouth, at just the right time, in the right way. Once each baby tooth has done it's job, then I'll come collect it.
In the meantime, take the ten tips for turning your teeth into tip-top shape. (Say that ten times!)
Healthy teeth rule! The Tooth Fairy is cool!
Love,
The Tooth Fairy
By Brian J. Gray, DDS, MAGD, FICO