Facts About Dental Fluoride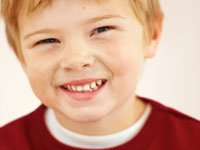 We have all received the benefit that fluoride offers in preventing tooth decay. The following facts will provide you with information to assure that your child's teeth receive the optimum amount of fluoride.
Fluoride strengthens the outer layer of enamel, making teeth more resistant to the acid attack of decay-causing bacteria. It can be of benefit not only when the teeth are forming, but also after they have erupted (come in).
Primary (baby) teeth begin to develop at six weeks during pregnancy. Fluoride supplements for mom during her pregnancy do not benefit baby's developing teeth. Only tiny amounts of fluoride are found in breast milk.
Well water may contain large amounts of fluoride. Before giving your child fluoride supplements, have your well water tested for fluoride content. Fluoride sticks to the sides of glass containers. Use a plastic container for an accurate test result.
Bottled water may also contain significant amounts of fluoride. The amount of fluoride will vary with the season of the year, the water table, and the plant from which the water was obtained.
Juices, tea, and soft drinks may contain fluoride. White grape juice has the highest concentration of fluoride. Fish and chicken baby food may also provide fluoride.
Do not assume that your home water filter system removes all fluoride. The age of the system and the filter may have a significant effect on your fluoride level. Have your water tested before giving your child a fluoride supplement.
Do not use fluoridated toothpaste before two years of age. Dispense only a dab the size of a match head for children under five. Children's toothpaste has the same amount of fluoride as the adult brands.
If your home water supply is not fluoridated, the water at school, daycare, or the caregiver's home may be optimally fluoridated.
Your physician or pediatric dentist may prescribe a fluoride supplement. Once the chewable tablet is begun, fluoride and vitamins should be taken separately. Vitamins work best with food, and fluoride is best absorbed from an empty stomach. Fluoride tablets should be taken at bedtime after the teeth are brushed. Chew, swish, and swallow.
There are many sources of fluoride other than your home water supply. When considering a fluoride supplement for your child, remember your fluoride facts!

by Jane A. Soxman, DDS
Dental Care: Malocclusion (Bad Bite) In Children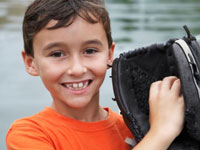 Malocclusion means "bad bite." It's when the upper and lower teeth are not meeting correctly, or when the teeth and jaws are not positioned for good dental health. This condition affects jaw growth, speech development, facial appearance, gum tissue health, and the ability to clean teeth properly.
What Causes Bad Bite In Children?
Many malocclusions are inherited. This includes crowding of teeth, too much space between teeth, extra or missing teeth, or irregularities in the jaws, face, and teeth.
Malocclusions also can be environmental in nature, caused by accidents, thumb sucking or sucking on a pacifier, obstruction by tonsils and adenoids, dental disease, or premature loss of primary (baby) teeth.
Why Is Dental Treatment Important?
If dental care is delayed or not taken, many problems get worse and more complicated (and expensive) to remedy. Malocclusion can cause excessive wear of tooth enamel, poor chewing, stress on both the gums and jawbone that support the teeth, chronic headaches, and facial and neck pains. Correcting the malocclusion can improve overall oral health and eliminate other potential problems.
Does the Pediatric Treatment Involve Removal of Some Teeth?
Sometimes when permanent teeth are crowded and their spacing and proper positioning is being affected by the primary teeth, removing primary or baby teeth is necessary. Otherwise, the severely crowded permanent teeth will either remain "stuck" (impacted) and unable to erupt, or they will erupt in an undesirable position.
Treatment of a malocclusion involves a thorough evaluation of your child's specific condition by a pediatric dentist and/or orthodontist. This may include recommendations for removal of some primary or permanent teeth because some malocclusions cannot be treated successfully without doing so. Extraction of some teeth in severely crowded conditions enhances proper alignment, function, and appearance, too.
How Is a Diagnosis of a Malocclusion Performed?
Each child's specific condition dictates the diagnostic procedures, but they often include several or all of the following:
Clinical exam.
Medical and dental history.
Impressions of the teeth for making plaster models.
Photographs of the face and teeth to provide a record of the child's facial appearance prior to treatment.
Panoramic X-rays showing all the upper and lower teeth in biting position, and teeth that are not yet visible.
Lateral (cephalometric) X-rays of the entire head showing the relationship of the teeth and jaws to the face and skull.
How Long Does Dental Care Treatment Take?
Each condition is unique and must be treated individually. The actual time is dependent on the growth of the child's mouth and face, the severity of the problem and the cooperation of the child in following instructions. Mild correction problems or early treatment may take only a few months. Treatment for more complex malocclusions range from one to three years.
An attractive smile, proper alignment, and healthy teeth are valuable rewards gained from a custom-designed treatment program made for smile after smile!
by Brian J. Gray, DDS, MAGD, FICO