Dental Sealants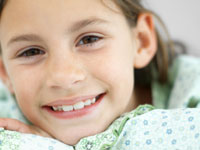 Imagine a barrier applied to teeth that can effectively prevent tooth decay! That's the miracle-working power of dental sealants, a thin plastic film (usually either white, pink, orange, or yellow) applied to the chewing surfaces of back teeth and other teeth with deep grooves. They act as a dental fortress, sealing out small food particles and cavity-causing bacteria.
Sealants Are Highly Effective
Scientific studies have proven that sealants are greater than 90% effective in protecting teeth from decay. As long as the sealant remains intact, cavity-causing food particles and bacteria cannot penetrate.
Durability
Sealants provide protection for three to five years. They serve as an excellent safeguard against cavities, especially critical for children in protecting their teeth during cavity-prone years. Adults also can benefit from sealant protection, particularly those susceptible to decay. Regular dental check-ups with your pediatric dentist are important for monitoring the durability of the sealants' bond.
Recommended for Children
Protecting children's permanent teeth from cavities is a dental health priority. Sealants are designed to protect the chewing surfaces of teeth since they're the most susceptible to the formation of cavities. Fluoride products and treatments don't provide the same type of cavity protection as do sealants. Sealants are superior in penetrating the grooved surfaces of teeth. Without the protection of sealants, 95% of people eventually get cavities in the grooved surfaces of their teeth. It makes sense to beat the odds and protect them from becoming a statistic.
How Are Dental Sealants Applied?
Sealant treatment is painless and quick, taking just a few minutes for each tooth. The first step is cleaning and rinsing the surface of the tooth. A cleansing gel is applied to the tooth, and 15 seconds later, rinsed away with water. The dentist then applies the sealant and it is allowed to harden, often times by using a special blue curing light. In less than an hour, teeth receive years of protection against cavities. Sealants have been approved by the American Dental Association Council on Dental Therapeutics since 1972, offering patients safe, effective, and painless protection against cavities. The latest generation of sealants actually can release fluoride if needed, to add double protection to the teeth.
by Brian J. Gray, DDS, MAGD, FICO
Preventing Baby Bottle Tooth Decay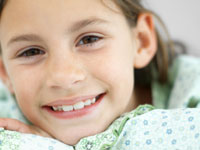 The Oral Health Hazard of Baby Bottle Syndrome
Baby bottle tooth decay is a condition resulting from frequent and long-term exposure of baby teeth to sugar-containing liquids, from sodas and sweetened drinks to baby formula, milk, fruit juice, and even breast milk. It doesn't matter whether the liquid is artificially sweetened or contains natural sugars. Breast-fed infants with prolonged feeding habits are also at risk in developing this condition. Baby bottle tooth decay may also be called baby bottle syndrome or bottle rot.
Bacteria found in plaque feed off the sugar in these liquids producing an acid byproduct. Acid attacks the gums and teeth, putting children at risk of tooth decay. If left untreated, the potential for pain and infection exists. Long-term effects include crooked teeth, speech problems, poor eating habits, and damaged adult teeth with the potential for tooth loss.
Tips to preventing baby bottle tooth decay or baby bottle syndrome
Do not put a child to bed with anything other than water. While an infant may suck on a bottle while falling asleep, it is very important to remove bottles containing either artificial or natural sugars before napping or at night. During sleep, the amount of saliva decreases, and sugars from the drink coat the gums and teeth for an extended amount of time, increasing the chance of cavities.
Daily cleaning and massaging a child's gums help establish healthy teeth, as well as provide special comfort while teething. At least once a day, moisten a gauze square or washcloth and gently rub your baby's gums.
As baby teeth appear, brush them gently with a soft toothbrush and do not use toothpaste until two years of age.
Wean children from bottles whenever they can drink from a cup. However, pediatric dentists recommend waiting until children are at least 6 to 12 months to provide adequate time for strengthening facial muscles developed by the sucking motion from a bottle or breast.
Take "baby" steps for achieving good oral health. To help in the weaning of sugar-containing liquids, gradually dilute the bottle's contents with water over a two- to three-week period. If your child still is using a bottle after that time, fill it with water since it's the only liquid which doesn't pose any risk for baby bottle tooth decay or baby bottle syndrome. You could also give your child a clean pacifier recommended by your child's dentist. Be sure to check with your child's physician regarding any changes in feeding routines.
Between the ages of 6 to 12 months, schedule your child's first visit to the pediatric dentist.
Stop baby bottle tooth decay or baby bottle syndrome before it starts! Follow these prevention tips for optimal oral health.
By Brian J. Gray, DDS, MAGD, FICO