Why Choose a Pediatric Dentist?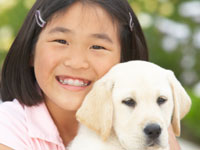 Pediatric dentistry was created to fill a void in traditional dental care. Your child's teeth and dental issues are different from yours, and therefore need special care. For instance, when was the last time your family dentist addressed your thumb- or pacifier- sucking habit, or explained that going to bed with a bottle can negatively affect your oral health? As a parent, you have to deal with teething and teaching another person how to properly care for his or her teeth, and pediatric dentists are equipped to deal with these issues. Both you and your child will appreciate the specialized care that a specialist can provide.
So, what sets a pediatric dentist apart from your traditional dentist? Pediatric dentists undergo additional training to learn about children's growth, development and psychology. They also take behavior management classes, where they learn to deal with nervous or hard-to-handle young patients. Here are just some of the things pediatric dentists can do to make this time easier (and healthier) for both you and your child:
Preventive care. Small mouths have special needs, such as child-size toothbrushes and fluoride-free tooth paste. A pediatric dental specialist will not only show your child how to properly care for his or her teeth, but, even more importantly, teach you how to supervise and guide his or her preventive dental care.
Monitoring growth.As children begin to grow primary teeth, pediatric dentists keep an eye on the bite and jaw alignment to predict, prevent and treat orthodontic problems.
Teething. Only a parent can truly understand the struggles that accompany a teething child. They're in pain and grumpy while you're virtually helpless (and so probably just as grumpy!). A pediatric dentist can show you how to alleviate your child's discomfort properly clean the teeth once they erupt.
Baby bottle tooth decay. If you send your child off to bed with a bottle, you aren't alone. It will often put an end to that incessant crying you've been struggling with most of the night. Unfortunately this habit can have terrible consequences. Sucking the bottle tip can misalign teeth. What's more, if the bottle contains any fluid other than water (particularly sugary fluids like juice), it can promote the growth of bacteria in the mouth and lead to tooth decay. A pediatric dentistry expert can minimize the effects of baby bottle tooth decay.
Thumb- and pacifier-sucking. Sucking thumbs, pacifiers and baby bottle tips can cause teeth to either shift out of line or grow improperly. A pediatric dentist will advise you on how to overcome these bad habits, which are often difficult to break.
You can also expect a different sort of "bedside manner" from a pediatric dental specialist, who has been trained on soothing the worried minds of dental phobic children.
Child's Dentist: Tongue Piercing Damages the Mouth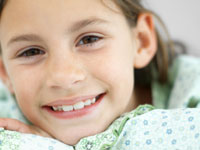 Tongue piercing carries some very serious risks. It can cause a wide range of problems, some even permanent. The pain from the piercing itself might be much more than temporary. It can actually get worse because of excessive swelling and infection and require medical treatment.
The mouth is a hard place to sterilize, so infections are common. Piercing establishments don't always maintain a sterile environment either. They are not regulated by law and many operators are not even licensed. The piercing operator might not be experienced or be thinking of your health and safety. He or she may not even know that the tongue has major blood vessels within it. If pierced in the wrong place -- bingo! You bleed badly. Excessive swelling of your tongue can even block your breathing passages.
The tongue is a breeding ground for bacteria. Piercing the tongue causes an open wound. Bathing it in antiseptic mouthwash isn't enough to kill bacteria. Without the ability to keep bacteria out, infection can develop, and lead to throbbing pain and a trip to the doctor or dentist.
Even if you get through the piercing without too much pain, swelling, or bleeding, you still run the risk of other complications. The jewelry might chip your teeth. It can damage your teeth from the inside, too, and that trauma may require an expensive root canal or crown. Over time, the jewelry can irritate your gums. Or, your fancy jewelry can go right "down the tubes" -- you might swallow or even choke on it, or have it lodge in your lungs.
Tongue Piercing Can Cause:
Pain
Swollen tongue
Infection
Severe bleeding
Blood poisoning
Increased saliva flow
Gum injury
Internal resorption (the tooth dissolves from the inside out)
Chipping of teeth
Tooth damage requiring crowns, root canals, or other restoration
Delayed healing
Allergic reactions to metals
Choking
Difficulty eating
Difficulty speaking
Life threatening diseases (for example, AIDS and hepatitis) caused from infected needles
Mouth jewelry attracts attention, sometimes the type you aren't looking for -- like dental and medical attention. Be cool. Think smart. Don't put your jewelry where your mouth is.
By Brian J. Gray, DDS, MAGD, FICO