Baby Teeth: Dental Care Before The Tooth Fairy.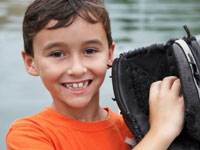 A child's first dental visit to the pediatric dentist is usually scheduled around his second birthday. But what happens before baby (primary) teeth fall out and the tooth fairy pays a visit is vital to a child's well being.
A healthy set of baby teeth can ensure proper facial development, and that your baby will speak and eat properly.
Whether breast-fed or bottle fed, baby gums need to be cleaned after every feeding. Simply moisten a gauze square and gently wipe away plaque. Never put a baby to bed with a bottle containing anything but water. (Read labels carefully: many infant juices contain sugar.)
After all 20 baby teeth have come in -- between 2 and 3 years – begin regular brushing. Make it a fun experience for you and your child. Beginning at about 2-1/2 years, examine your child's teeth every three months. Using a dental mirror, hold it behind the tooth surfaces and shine a penlight onto the mirror. Check for stained areas you may have missed with disclosing tablets (available at your pharmacy). If a child has a fall or is in a fight, look for any baby teeth that look blue -- a sign of injury, and call your pediatric dentist.
Research shows that kids who are brushing their teeth by the age of five will continue this habit all their lives. So give your child a head start on good dental health.
Space Maintainers Save Your Child's Smile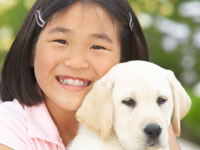 Space maintainers can save your child's smile. They are specially designed to protect space for your child's permanent teeth when baby teeth are prematurely lost because of injury or decay. If a tooth is lost too soon, your dentist may suggest a space maintainer to prevent future dental problems.
What's the Problem if Baby Teeth Come Out Too Soon?
The primary teeth or baby teeth play an important role in your child's developing mouth. They help in the normal development of the muscles and jawbones. Primary teeth serve as natural space maintainers, holding the space until the permanent teeth push them out. If baby teeth are lost too early, the other teeth can drift into the vacant space. This might cause teeth to come in crooked or unable to erupt into the gum, which leads to malocclusion, the improper positioning of the teeth and jaws. It also can cause a permanent tooth to appear prematurely, before what's best for a child's long-term dental health.
What Is a Space Maintainer?
It's a small device made of either plastic or metal and custom-fit to the child's mouth. It is a firmly fixed appliance, consisting of a band or temporary crown attached to a tooth on one side of the empty tooth socket. A wire loop or spring bridges the space to a tooth on the other side of the socket. Rarely, a dentist may make a removable space maintainer that is like a retainer or mouth guard.
How Does a Space Maintainer Help?
Holds the empty space open, preventing movement of the other teeth, and gives the permanent tooth the needed time to take its natural position.
May reduce or eliminate future orthodontic treatment.
What Dental Care Is Required?
Good oral hygiene is important. The space maintainer should be kept clean and teeth need to be brushed at least twice a day and flossed daily. Certain things must be avoided with a space maintainer in place -- no sticky sweets, chewing gum, or tugging on it with either fingers or the tongue.
Most children adjust within a few days to the new experience of a space maintainer. It can dramatically make a difference in a child's dental health and be worth any temporary discomfort or inconvenience.
by Brian J. Gray, DDS, MAGD, FICO